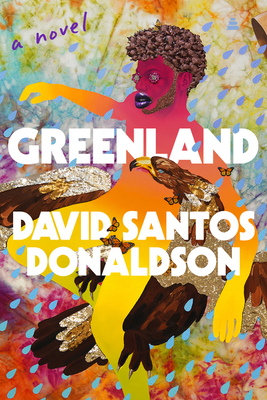 Greenland
A Novel
Hardcover

* Individual store prices may vary.
Other Editions of This Title:
Digital Audiobook (6/6/2022)
Paperback (5/16/2023)
Description
A dazzling, debut novel-within-a-novel in the vein of The Prophets and Memorial, about a young author writing about the secret love affair between E.M. Forster and Mohammed el Adl—in which Mohammed's story collides with his own, blending fact and fiction.
In 1919, Mohammed el Adl, the young Egyptian lover of British author E. M. Forster, spent six months in a jail cell. A century later, Kip Starling has locked himself in his Brooklyn basement study with a pistol and twenty-one gallons of Poland Spring to write Mohammed's story.
Kip has only three weeks until his publisher's deadline to immerse himself in the mind of Mohammed who, like Kip, is Black, queer, an Other. The similarities don't end there. Both of their lives have been deeply affected by their confrontations with Whiteness, homophobia, their upper crust education, and their white romantic partners. As Kip immerses himself in his writing, Mohammed's story – and then Mohammed himself – begins to speak to him, and his life becomes a Proustian portal into Kip's own memories and psyche. Greenland seamlessly conjures two distinct yet overlapping worlds where the past mirrors the present, and the artist's journey transforms into a quest for truth that offers a world of possibility.
Electric and unforgettable, David Santos Donaldson's tour de force excavates the dream of white assimilation, the foibles of interracial relationships, and not only the legacy of a literary giant, but literature itself.
Praise For Greenland: A Novel…
"Greenland is a smart, exhilarating novel about racism and self-knowledge.... 'Only connect' is, of course, Forster's famous epigram from Howard's End, a poignant, at times desperate plea for connection among people who are as much mysteries to themselves as to others. In Greenland, Donaldson reworks "only connect" to be a paean to self-connection, the integration of ambivalent identities into something like a wryly formed human being for our time." — NPR's Fresh Air
"This is a book with respect for neither the margins of the page nor those that confine us in the real world. Donaldson sustains a plot that ends with ecstasy, action and reconciliation, satisfyingly concluding a novel of ideas that is also about one queer Black man finding his true north."?
— Los Angeles Times
"As it weaves in meditations on colonialism, spirituality, and the erotic, Santos Donaldson's supremely stylish fever dream of a novel may delve most deeply into a specific subset of the queer experience, but the bigger questions it poses about how we come to terms with our own social and cultural identities make it feel surprisingly universal." — Vogue
"A delicious and delirious work of metafiction."  — Electric Literature
"Perceptive and personal, this compelling novel eloquently clarifies ongoing issues of race and racism while authentically telling a unique story. Highly recommended." — Library Journal (starred review)
"Greenland is a sly meditation on the will to create, the limits of reality, the pleasures of storytelling, and the audacious possibility of salvation by narrative. With a novel that is hyper-literate, meta, and modernist, David Santos Donaldson invites us to remember that thinking is a way adults play and reading is sometimes how we save ourselves."
— Alice Randall, award-winning author of Black Bottom Saints
"Fresh and edgy, David Santos Donaldson's Greenland is profoundly entertaining and full of emotion, humor, pain, and wisdom. His narrator dances in a hall of mirrors but he doesn't dance alone—he is joined by his husband, his best female friend Concha, E. M. Forster, Forster's Black Egyptian boyfriend, and others both earthly and unearthly. Rather like The Golden Notebook for a new age with race and sexuality replacing gender and class, this is the work of a brilliant, inventive, sensuous dreamer." — Christopher Bram, author of Gods and Monsters and Lives of the Circus Animals
"Throughout Greenland, David Santos Donaldson has powerfully captured the isolating pain of a man who has spent his life being seen as "the other." …[A] fine contribution to a growing canon of Black queer fiction."   — New York Journal of Books
"David Santos Donaldson's dazzling debut novel can be read on many levels: as a work of fiction that examines the difficulties of creating loving relationships between the colonizer and the colonized—especially when they are of the same gender and of different races—and as a clear-eyed dissection of how empire-building dehumanizes and then subjugates the people it conquers. As with Ralph Ellison's Invisible Man, Greenland reminds us that far too often Black people are allowed visibility only when their talents are needed or sanctioned by white society." — Jaime Manrique, author of Cervantes Street and Our Lives Are the Rivers
"Greenland is unique, passionate, and vast in both its reach and its impact. With his debut novel, David Santos Donaldson has written a beautifully personal missive about a writer desperate to find his voice, his possibility, his very reason for living. Greenland depicts a panorama that will make you think of Robert Altman and Tony Kushner, who, like Donaldson, take you on a night walk that leaves you shattered—but rest assured, you will get home before dawn, happier, richer, aroused." — James Grissom, author of Follies of God: Tennessee Williams and the Women of the Fog
"A refreshing novel from an author who makes unconventional artistic choices to serve his ends." — New York Times Book Review
"Besides being a talented fiction writer, Donaldson is a psychotherapist, and his debut novel is psychologically acute in its portrayal of a queer Black man crumbling under the weight of personal, historical, and racial trauma."   — Booklist
"[An] assured debut."
— Publishers Weekly
Amistad, 9780063159556, 336pp.
Publication Date: June 7, 2022
About the Author
David Santos Donaldson was raised in Nassau, Bahamas, and has lived in India, Spain, and the United States. He attended Wesleyan University and the Drama Division of the Juilliard School, and his plays have been commissioned by the Public Theater. He was a finalist for the Urban Stages Emerging Playwright Award and has worked as the Artistic Director for the Dundas Centre for the Performing Arts in Nassau, Bahamas. Donaldson is currently a practicing psychotherapist, and divides his time between Brooklyn, New York, and Seville, Spain. Greenland is his first novel.