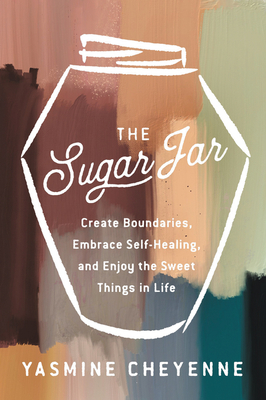 The Sugar Jar
Create Boundaries, Embrace Self-Healing, and Enjoy the Sweet Things in Life
Hardcover

* Individual store prices may vary.
Other Editions of This Title:
Digital Audiobook (12/26/2022)
MP3 CD (12/27/2022)
Compact Disc (12/27/2022)
Description
"With calm and compassionate power, Yasmine is helping us to find our way back home—back to our own selves." —Layla Saad, New York Times bestselling author of Me & White Supremacy
"Yasmine's work is monumental, and I am in much better holistic alignment because of her dedicated and helpful offerings to the world."—Alex Elle, author of After the Rain
A radical approach to setting boundaries and protecting your energy, rich with tools for self-healing.
Imagine a glass jar filled with sugar on a kitchen counter. You are the jar, and the sugar is your energy. If the jar has no lid, people can come in and take as much sugar as they want. Sometimes, they spill that sugar all over. You may try to refill your jar—replenish your energy—through self-care, but because there is no a lid—no protective boundary—you cannot control how much of your vital life force is being drained.
The Sugar Jar metaphor is a powerful teaching tool that wellness advocate and coach Yasmine Cheyenne has successfully used with her clients. Now, in her debut book, she makes it available to everyone. Combining stories, exercises, and prompts, The Sugar Jar lets you see just how much energy you have and how much is being used by others. It helps you identify what depletes you, what restores you, and how to recognize destructive patterns. It empowers you to free yourself from performing for and serving others, teaching you to set boundaries to help you heal and recharge. The Sugar Jar frees you from the excess stress and exhaustion that wears you down. It allows you to unleash your authentic self, choose joy, and find lasting balance.
A compassionate teacher, Cheyenne offers a unique and much needed perspective. A former member of the Air Force working with victims of domestic violence, she has specifically designed her approach and questions about boundaries, self-care, and self-healing for readers of all backgrounds, and especially readers of color, whose stressors and life challenges have too often been excluded and overlooked. Cheyenne herself has felt unwelcome as a Black woman in predominantly white wellness groups and retreats. Her inclusive message speaks to the needs of BIPOC readers, and accepts them where they are.
Warm and honest, featuring a beautiful and inviting two-color design, The Sugar Jar shows you how to make small adjustments that can lead to big changes in your life.
Praise For The Sugar Jar: Create Boundaries, Embrace Self-Healing, and Enjoy the Sweet Things in Life…
"Yasmine Cheyenne's work offers that beautiful sweet spot of soulful wisdom meets everyday practicality. In a world where so many of us are searching for tools to do our inner work of healing and reclamation, Yasmine offers advice, practices, and rituals that are approachable yet deeply meaningful. With calm and compassionate power, she is helping us to find our way back home – back to our own selves." — Layla Saad, New York Times Bestselling author of Me & White Supremacy
"Yasmine has written the book we all need. If you're looking for ways to fill yourself up, set boundaries, and create ease in your life, read this." — Alexandra Elle, author of After the Rain and How We Heal
"Yasmine is a gentle but powerful guide, helping readers learn how to set healthy boundaries and nurture their energy. Her work is a must read in helping you learn to choose more joy daily." — Angela Rye, Award Winning Host and Social Justice Advocate
"Yasmine Cheyenne is the sister-friend we all need. This book is soaked with life-shifting ideas that feel not only powerful but doable. If you are looking for a healing balm and a catalyst for personal transformation, Ms. Cheyenne wrote this book for you. Buy two copies, one for yourself and one for someone you love." — Cleo Wade, New York Times bestselling author of Heart Talk
"This book makes some of the hardest aspects of healing feel manageable, empowering, and sustainable. It is sure to be a resource readers will turn to time and time again as a reminder of the practices we need along our journeys of understanding how to preserve our best selves." — Chloe Dulce Louvouezo, author of Life I Swear
"Yasmine's words have a way of cracking you and your heart wide open. The Sugar Jar is one of those books that has the power to change your life, the way you see the world, and the way you see yourself." — Melissa Wood-Tepperberg, Founder of MWH
"The Sugar Jar is a practical guidebook on how to approach personal growth and healing with more kindness and grace. Yasmine's stories and reflection questions help you live with more clarity, confidence, and courage. The perfect read for anyone who wants to build an authentic and unapologetic life."  — Barb Schmidt and Michelle Maros, Founders of Peaceful Mind Peaceful Life
Yasmine's writing is heartfelt, cozy, and honest. Each word fills the reader with as much sweetness, as the title itself! Her perspective is powerful – each chapter a practical and gentle guide for choosing ourselves and living the life we want! — Sara Kuburic of Millenial.Therapist, Psychotherapist and Writer
"In The Sugar Jar, Yasmine warmly navigates you through various slippery slopes of disempowerment to seize control of your personal energy, power, and sense of inner balance." — Lalah Delia, author of Vibrate Higher Daily, Wellness Educator
HarperOne, 9780063162365, 288pp.
Publication Date: December 27, 2022
About the Author
Yasmine Cheyenne is a self-healing educator, author, speaker, and mental wellness advocate who helps people learn how to cultivate daily practices to build healthy, joyful lives. Yasmine believes in "Self-healing For Everyone™" and on 2/22/22, launched The Sugar Jar Community™ app, a safe space with resources to support mental health. She has been featured on the Today show and in InStyle, Forbes, Refinery 29, The Every Girl, Poosh, and more. She lives in Washington, DC.