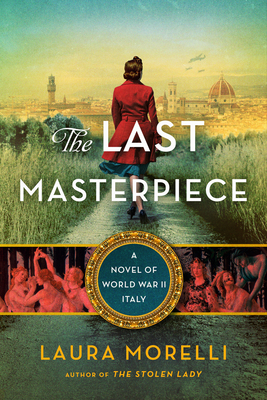 The Last Masterpiece
A Novel of World War II Italy
Paperback

* Individual store prices may vary.
Description
In a race across Nazi-occupied Italy, two women—a German photographer and an American stenographer—hunt for priceless masterpieces looted from the Florentine art collections.
In the summer of 1943, Eva Brunner is taking photographs of Nazi-looted art hidden in the salt mines of the Austrian hinterland. Across the ocean in Connecticut, Josephine Evans is working as a humble typist at the Yale Art Gallery.
When both women are called to Italy to contribute to the war effort, neither imagines she will hold the fate of some of the world's greatest masterpieces torn from the Uffizi Galleries and other Florentine art collections in her hands.
But as Italy turns from ally to enemy and Hitler's plan to destroy irreplaceable monuments and works of art becomes frighteningly clear, each woman's race against the clock—and against one another—might demand more than they were prepared to give.
The Last Masterpiece takes readers on a heart-pumping adventure up the Italian peninsula, where nothing is as it seems and some of the greatest works of art and human achievement are at stake. Who might steal and who might save a work of art—and at what cost?
Inspired by the incredible true story of the Monuments Women, the Fifth Army WACs, and the looted Florentine art collections during World War II, the latest historical novel by USA Today bestselling author and art historian Laura Morelli plunges readers into the heart of war-torn Italy. 
Praise For The Last Masterpiece: A Novel of World War II Italy…
"Like the masterpiece she writes about, Laura Morelli has created a work of art that is impossible to forget. With beautifully rendered settings, expertly drawn characters and a storyline that immersed me from the very first page, The Stolen Lady is a wonderful homage to both art and the women in history who made art possible, but whose stories have been forgotten. A truly sublime novel." — Natasha Lester, New York Times bestselling author of The Paris Secret
"The Stolen Lady is a beautifully written, must-read story of the incredible journey of the Mona Lisa set amid two turbulent times in history. Laura Morelli offers a well-researched and richly told tale that captivated my attention from the first page." — Madeline Martin, New York Times bestselling author of The Last Bookshop in London
"If you liked Laura's Morelli's The Night Portrait, you'll love The Stolen Lady. Morelli once again spins an unforgettable, page-turning tale of art history—this time about Leonardo da Vinci's Mona Lisa. With exquisite historical details, surprising plot twists, and unforgettable characters who commit extraordinary acts of bravery to create and protect art, The Stolen Lady entertains while giving readers a whole new perspective on the world's most famous painting." — Stephanie Storey, bestselling author of Oil and Marble: A Novel of Leonardo & Michelangelo and Raphael, Painter in Rome
"In a brilliantly written narrative that deftly cuts back and forth between the 15th and the 20th centuries, Morelli brings to vivid life the attempts by a German art restorer and an American soldier to rescue works of art from the destruction of war. This is a compelling story of two heroic people, of the young Cecelia who posed for Da Vinci, the artist, and the times they lived in. I am left with an affirmation of the crucial importance of art to a culture and the power of individual action." — Frances Mayes, #1 New York Times bestselling author of Under the Tuscan Sun and Women in Sunlight, on The Night Portrait
"The Night Portrait by Laura Morelli, which links Renaissance Italy and the crucible of World War Two in the most absorbing and innovative fashion, is also a novel of profound emotional resonance. A respected art historian, Morelli brings an exceptional depth of research and understanding to a story already made memorable by her beautiful prose. This is a truly original novel that has earned its place among my favorite works of historical fiction." — Jennifer Robson, bestselling author of Our Darkest Night
"Morelli (The Night Portrait) delivers a sprawling saga of magnetic parallel stories involving the Mona Lisa… [She] makes both story lines richly drawn, revealing the remarkable fortitude of two women who saved a masterpiece, each during a moment of upheaval. This will pull in readers from the very first page." — Publishers Weekly
William Morrow Paperbacks, 9780063205987, 384pp.
Publication Date: June 6, 2023
About the Author
Laura Morelli holds a Ph.D. in art history from Yale University and is an award-winning, USA Today bestselling historical novelist. Laura has taught college students in the U.S. and in Italy. She has covered art and authentic travel for TED-Ed, National Geographic Traveler, Italy Magazine, CNN Radio, and other media. Laura is the author of the popular Authentic Arts guidebook series that includes Made in Italy. Her historical novels, including The Night Portrait and The Gondola Maker, bring the stories of art history to life.