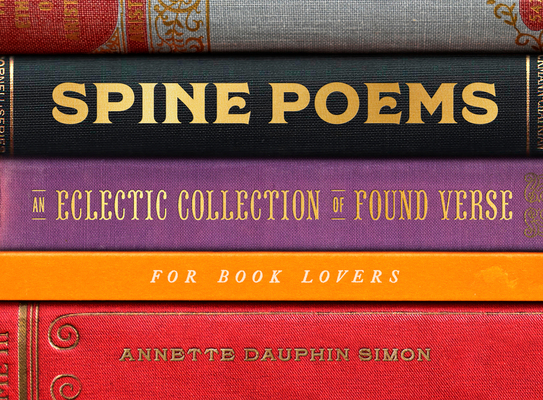 Spine Poems
An Eclectic Collection of Found Verse for Book Lovers
Hardcover

* Individual store prices may vary.
Description
A charming, clever, and original collection of more than 100 spine poems–a popular form of found poetry composed by arranging book spines—illustrated with 110 full-color photographs.
Easy to create and share online, spine poems—also known as collage poems or centos—have become a fun and popular way of writing poetry. Spine Poems is a delightful, illustrated collection of more than 100 spine poems that range from hilarious to heart-rending to profound.
Award-winning creative director and former bookseller Annette Dauphin Simon has arranged the poems in categories that resemble those found in a bookstore: Art, Biography and Memoir, Business, Cooking, Home and Garden, Music, Parenting, Philosophy, Politics, Pop Culture, Science Fiction and Fantasy, and True Crime. Each poem pulls from a wide variety of book genres and ranges from the short and quippy to lengthier and poignant.
Ridiculous / Hilarious / Terrible / Cool
 Other Words for Home
 Elisha Cooper / Jasmine Warga
Eek!
My Heart
Is Was
Torpedoed
Hundred Percent
Wonderstruck
Didn't See That Coming
Restart
Julie Larios and Julie Paschkis / Corinna Luyken / Deborah Freedman / Deborah Heiligman /Karen Romano Young / Brian Selznick / Rachel Hollis / Gordon Korman
Every poem is visually captured in a color photograph of stacked book spines taken by the author and is presented in a text version on the opposite page. Each spread also includes a list of the authors and artists whose titles make up the poem, and features quotes, fun facts, and other related literary and popular culture miscellany.
Spine Poems is a wonderful keepsake and gift book for all lovers of words, books, and poetry.
Praise For Spine Poems: An Eclectic Collection of Found Verse for Book Lovers…
"'Spine Poems' makes a fun gift for any book hoarder, and it'll surely inspire you to start mixing up your stacks." — Ron Charles, The Washington Post Book Club
"Dauphin Simon, a creative director and former bookseller, stacks books spine-out to tell poetic micro stories, categorizing the resulting verse in a bookshop-like way––cooking, parenting, true crime, and so on. The poetry is the main point ('Taking Turns / Cleaning Up / This Is the Story of a Happy Marriage') but part of the fun, too, is admiring the ordered chaos of books arranged with no regard to color."  — Publishers Weekly Holiday Gift Guide
"A delightful gift for any book lover! Warning: May cause a compulsion to re-arrange your bookshelves." — Mary Laura Philpott, author of I Miss You When I Blink and Bomb Shelter
"For nearly thirty years, I've been making what I call "Sorted Books," or what Annette Dauphin Simon calls "spine poetry," and I definitely understand Annette's obsession! With this book, she makes clever, whimsical, quirky and memorable contributions to the genre of found poetry."   — Nina Katchadourian, author of Sorted Books
"Annette's book and concept are witty and inspiring. The whole idea strikes me as highly contagious. Book lovers will be deliciously infected, never to quite recover. I am comfortably in bed as I write but must get up and try to make such a poem immediately."  — Jan Karon, #1 New York Times bestselling author 
"At once funny and deeply felt, these poems beg for interaction. I read them aloud, I looked for the books behind the spines, and I pulled a few titles off the shelf to make poems of my own." 
  — Liz Garton Scanlon, author of the Caldecott-honored All the World
"What a treat for any lover of books, words, poetry, and wonderment. Author Annette Simon began rearranging piles of books to create poems from their titles. I was fortunate enough to be present at the "storied independent bookstore in Neptune Beach" when this adventure took flight. . . . Simon has organized these spine poems into categories within Fiction and Non-fiction, and has paired them with related writings to inspire imagination and delight. Her last page aptly pictures two books with spines that proclaim "One Last Word" and "Mic Drop." Personally, I hope not." — Rona Brinlee, owner of The BookMark bookstore
"In Spine Poems, Annette Dauphin Simon commits an act of worshipful bibliophilia. Through the seemingly simple exercise of puzzling the spines of books, she creates poetry that is at once poignant, lovely, goofy, whimsical, surprising---and, yes, brilliant. You will never look at a bookshelf the same way again." — Susan Coll, author of Bookish People
"Annette Dauphin Simon's Spine Poems is creatively delightful with a discovery on every page! It inspires a joy for poetry and sparks a game for found poems. Snippets of facts makes this book perfect for story sleuths and lovers of literature alike." — Alicia D. Williams, Coretta Scott King–John Steptoe New Talent Award-winning author of Genesis Begins Again, a Newbery Honor Book 
"Spine Poems isn't sitting on my shelf. It's living on my desk, a beautiful hardback with embossed title, filled with the titles of 323 more books (I counted) waiting to be discovered in an inspiring and delightful format. With every page turn, I declared out loud, "THIS one is my favorite!" ... until the next page. Split into categories from business to romance to pop culture, there's a spine poem for just about any day or mood, like a warm text from a friend, short and sweet, and perhaps with more to discover behind the spines." — Ruth Suehle, author at GeekMom
"The verses range from hilarious two-line quips and truisms, to quirky observations about life and love, to insightful social commentary about the strange times we live in. Bursting with charm and joie de vivre, these friendly, visually appealing collages are accessible and oh-so-relatable, capable of turning skeptics into instant poetry lovers."  — Jama Kim Rattigan, Alphabet Soup
"Enchanting." — Chris Barton, author of New York Times bestselling and Silbert-honored picture books 
Harper Design, 9780063208223, 224pp.
Publication Date: September 6, 2022