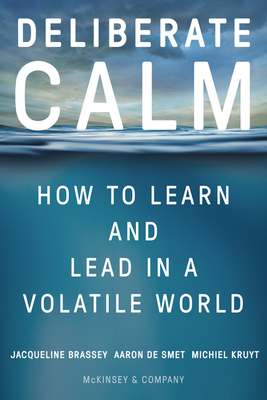 Deliberate Calm
How to Learn and Lead in a Volatile World
Hardcover

* Individual store prices may vary.
Other Editions of This Title:
Digital Audiobook (11/28/2022)
Compact Disc (11/29/2022)
MP3 CD (11/29/2022)
Description
A trio of McKinsey & Company veterans draws from a unique combination of psychology, neuroscience, and consciousness practices plus a combined 50-plus years of international board room experience to offer a unique approach to learning and leading with awareness and intentional choice, even amidst the most challenging circumstances.
As the speed of change in our increasingly complex world accelerates daily, leaders are tasked with performing outside of their familiar zones both in their personal and professional lives. This requires us to adapt. Yet, the same conditions that make adapting so important can also trigger fear, leading us to resist change and default to reactive behavior. The authors call this the "adaptability paradox": when we most need to learn and change, we stick with what we know, often in ways that stifle learning and innovation. To avoid this trap, leaders must become proactive so they can lead ahead of the curve.
Enter Deliberate Calm, a tangible guide that combines cutting-edge neuroscience, psychology, and consciousness practices, along with the authors' decades of experience working with leaders around the globe. By practicing Dual Awareness, which integrates our internal and external experiences, leaders can become fluid and respond to challenges with intentional choice instead of being limited by their old success models. With Deliberate Calm, anyone can lead and learn with awareness and choice to realize their full potential, even in times of uncertainty, complexity, and change.
Praise For Deliberate Calm: How to Learn and Lead in a Volatile World…
"Life's full catastrophe means stressors never stop. We can all use the advice offered in Deliberate Calm." — Daniel Goleman, bestselling author of Emotional Intelligence
"Leaders have an enormous influence on the lives of those they lead; when leaders get stuck, often their teams, organizations, and families also get stuck. With this book, you can tap into wisdom that will help you control your responses under pressure, enabling you to stay focused and present. A must-read for anyone looking to gain the confidence to face the challenges in life." — Arianna Huffington, founder and CEO of Thrive Global
"This beautiful book could change your life. The authors offer profound insights gained from their combined decades of practice and research—brought to life through compelling stories—to present an actionable guide to leading in a world full of uncertainty and stress." — Amy C. Edmondson, professor at Harvard Business School and author of The Fearless Organization<
"The Deliberate Calm Promise helps you get unstuck in your old patterns of behavior that do not seem to work for you. With very helpful explanation and examples, the book will make you understand that you do not have control over the external environment, but the way you respond can be in your hands, and that will bring peace and calm in your life." — Anu Aga, former chairperson of the Thermax Group and former nominated member of the Indian Parliament
"When in the midst of a furious exchange or panic at seeing your demons let loose, it is not helpful when someone says, 'Calm down.' If you had read and followed the path in this marvelous book, Deliberate Calm, you would know how to do it. The stories and messages take self-control to a whole new level with overtones of Eastern philosophy. So instead of meditating for hours each week or practicing martial arts until your hands are callused, read and reread Deliberate Calm. It will help, and your family, friends, and coworkers will thank you!" — Richard Boyatzis, PhD, Distinguished University Professor, Case Western Reserve University, coauthor of the international bestsellers Primal Leadership and Helping People Change
"CEOs and business leaders continue to face unprecedented and urgent challenges—not the least of which are the global problems of pandemics, runaway climate change, and increasing poverty—that require extreme adaptability. Deliberate Calm is a science-backed, field-tested must-read to help lead through these toughest of times and seize the multitudes of opportunities." — Paul Polman, CEO of Unilever, 2009–2019 and author of Net Positive
"When faced with a situation we have never encountered before, it is natural for most of us to panic. Seeing, instead, such a situation as a learning opportunity may sound unnatural if not incredulous. But deliberately facing this unknown with the use of specific behavioral steps will improve one's adaptability, learning agility, and overall awareness. This is the authors' promise. And the best part is that they provide considerable evidence to support their promise." — W. Warner Burke, PhD, professor emeritus of psychology and education at Teachers College, Columbia University
"In a time when the world feels more uncertain than ever, Deliberate Calm will empower you to face any challenge with clarity and purpose." — Francesca Gino, professor at Harvard Business School and bestselling author of Rebel Talent
Harper Business, 9780063208964, 336pp.
Publication Date: November 29, 2022
About the Author
Jacqueline Brassey, PhD, MAfN, is McKinsey's chief scientist, the director of research science for People and Organizational Performance at McKinsey, and a global leader with the McKinsey Health Institute. She is also affiliated with the Vrije Universiteit Amsterdam in the Netherlands, is an adjunct professor at IE University in Madrid, Spain, and serves on the supervisory board of Save the Children NL. Jacqui and her husband, Nicholas, live in Luxembourg with their teenage twins.
Aaron De Smet is a senior partner at McKinsey & Company. For twenty-five years, he has helped institutions transform to improve performance and organizational health. After getting his MBA in 1992, Aaron helped lead research to enhance the impact of behavioral health programs. He earned his PhD in social and organizational psychology at Columbia University and joined McKinsey in 2003. He lives with his family in Montclair, New Jersey.
Michiel Kruyt is the CEO of Imagine.one with a mission to help business leaders create systemic transformation toward a more sustainable and equal planet. Before joining Imagine, Michiel was a partner at McKinsey & Company and a cofounder and managing partner of change leadership at the firm Aberkyn. He started his career working for Unilever in the Netherlands, Italy, and the United States. He is a board member of the Urban Consciousness Center in Amsterdam. Michiel, his wife, Christine, and their three children live just outside Amsterdam.