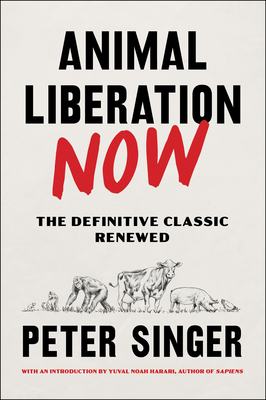 Animal Liberation Now
The Definitive Classic Renewed
Paperback

* Individual store prices may vary.
Other Editions of This Title:
Digital Audiobook (11/9/2015)
Paperback (2/24/2009)
Hardcover (5/23/2023)
MP3 CD (11/10/2015)
Compact Disc (11/10/2015)
Description
"The indispensable foundational text for the movement, new and updated with the honesty and philosophical depth characteristic of all of Singer's work." —J.M. Coetzee, author of The Lives of Animals and Disgrace
"Peter Singer may be the most controversial philosopher alive; he is certainly among the most influential."—The New Yorker
Few books maintain their relevance – and have remained continuously in print – nearly 50 years after they were first published. Animal Liberation, one of TIME's "All-TIME 100 Best Non-Fiction Books" is one such book. Since its original publication in 1975, this groundbreaking work has awakened millions of people to the existence of "speciesism"—our systematic disregard of nonhuman animals—inspiring a worldwide movement to transform our attitudes to animals and eliminate the cruelty we inflict on them. In Animal Liberation Now, Singer exposes the chilling realities of today's "factory farms" and product-testing procedures, destroying the spurious justifications behind them and showing us just how woefully we have been misled.
Now, for the first time since its original publication, Singer returns to the major arguments and examples and brings us to the current moment. This edition, revised from top to bottom, covers important reforms in the European Union, and now in various U.S. states, but on the flip side, Singer shows us the impact of the huge expansion of factory farming due to the exploding demand for animal products in China. Further, meat consumption is taking a toll on the environment, and factory farms pose a profound risk for spreading new viruses even worse than COVID-19.
Animal Liberation Now includes alternatives to what has become a profound environmental and social as well as moral issue. An important and persuasive appeal to conscience, fairness, decency, and justice, it is essential reading for the supporter and the skeptic alike.
Praise For Animal Liberation Now: The Definitive Classic Renewed…
"I became a vegetarian when I read Animal Liberation back in the 1970s. Then and there I stopped eating meat. If I'd read this revised Animal Liberation Now I'd have become a vegan much sooner."  — Jane Goodall
"In its first incarnation, Animal Liberation became the indispensable foundational text for the movement whose name it bore. In its new, updated, and wholly rewritten form, Animal Liberation Now provides not only a survey – sober, authoritative, and chilling – of what goes on today in the factory farms and research laboratories of the world, but also a guide, written with the honesty and philosophical depth characteristic of all of Peter Singer's work, through the complexities of the modern debate on animal rights." — J.M. Coetzee, author of The Lives of Animals and Disgrace
"Peter Singer may be the most moral person on the planet. If his ruthlessly consistent altruism makes the rest of us shuffle our feet in discomfort, or even noisily disrupt his lectures, that's all the more reason to read this book."  — Richard Dawkins, Fellow of the Royal Society, author of The Selfish Gene, The God Delusion, and The Ancestor's Tale
"Animal Liberation Now is a truly revolutionary text to read, treasure and pass along. Peter Singer's Animal Liberation was a philosophical bombshell when it first appeared in 1975. It forever changed the conversation about our treatment of animals, and this new book will both enrich and sharpen that conversation." — Ingrid Newkirk, founder and president, People for the Ethical Treatment of Animals
"Whether you are new to these ideas, or Animal Liberation has already changed your life, Animal Liberation Now is essential in helping us all see our place in today's world and the urgency of ending the exploitation of animals." — Leah Garcès, CEO, Mercy For Animals
"Singer's great achievement in Animal Liberation was to bring activism together with a powerful philosophical theory founded on the principle of equal consideration of interests.  Animal Liberation Now shows that the book that changed the world a half century ago is even more relevant today." — Dale Jamieson, Director, Center for Environmental and Animal Protection, New York University
"The first edition of Animal Liberation helped me make a career-changing decision to establish a more egalitarian biology. Singer's updated edition is even more valuable because given what we've learned about animal minds in recent years, it is painfully clear that animals are not disposable, simple-minded, unfeeling objects. We should have got rid of that human-centric arrogance decades ago." — Marc Bekoff, professor emeritus of Ecology and Evolutionary Biology, University of Colorado, Boulder, and author of The Emotional Lives of Animals, and The Animals' Agenda
"Singer's documentation is unrhetorical and unemotional, his arguments tight and formidable, for he bases his case on neither personal nor religious nor highly abstract philosophical principles, but on moral positions most of us already accept." — New York Times Book Review
"This book is a must . . . not just for every animal lover but forevery civilized reader." — Cleveland Amory
"A most important book that will change the way many of us look at animals—and, ultimately, at ourselves." — Chicago Tribune
"This book can't help but make you think twice about whether or not animals have rights. It is so lucid and smart and thoroughly researched, without a hint of hysteria. I couldn't put it down." — Rick Moody, author of The Ice Storm
Harper Perennial, 9780063226708, 368pp.
Publication Date: May 23, 2023
About the Author
Peter Singer's other books include Writings on an Ethical Life, Practical Ethics, and The Life You Can Save, among many others. He is the Ira W. DeCamp Professor of Bioethics at Princeton University's Center for Human Values.
Prof. Yuval Noah Harari is a historian, philosopher, and the bestselling author of Sapiens: A Brief History of Humankind, Homo Deus: A Brief History of Tomorrow, 21 Lessons for the 21st Century, and Sapiens: A Graphic History. His books have sold over 35 million copies in 65 languages, and he is considered one of the world's most influential public intellectuals today. The Guardian has credited Sapiens with revolutionizing the non-fiction market and popularizing "brainy books".
In 2020 Harari joined forces with renowned comics artists David Vandermeulen and Daniel Casanave, to create Sapiens: A Graphic History: a radical adaptation of the original Sapiens into a graphic novel series. This illustrated collection casts Yuval Noah Harari in the role of guide, who takes the reader through the entire history of the human species, accompanied by a range of fictional characters and traveling through time, space and popular culture references.
Born in Haifa, Israel, in 1976, Harari received his PhD from the University of Oxford in 2002, and is currently a lecturer at the Department of History, the Hebrew University of Jerusalem. He originally specialized in world history, medieval history and military history, and his current research focuses on macro-historical questions such as: What is the relationship between history and biology? What is the essential difference between Homo sapiens and other animals? Is there justice in history? Does history have a direction? Did people become happier as history unfolded? What ethical questions do science and technology raise in the 21st century?