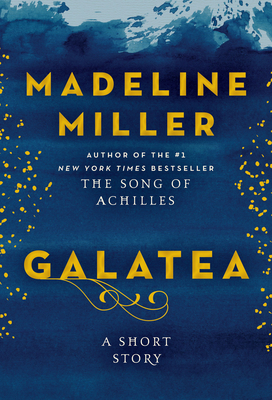 Galatea
A Short Story
Hardcover

* Individual store prices may vary.
Description
NATIONAL BESTSELLER
An enchanting short story from Madeline Miller that boldly reimagines the myth of Galatea and Pygmalion, now in hardcover for the first time
**A small hardcover edition featuring a new afterword by Madeline Miller**
In ancient Greece, a skilled marble sculptor has been blessed by a goddess who has given his masterpiece—the most beautiful woman the town has ever seen—the gift of life. After marrying her, he expects Galatea to please him, to be obedience and humility personified. But she has desires of her own and yearns for independence.
In a desperate bid by her obsessive husband to keep her under control, Galatea is locked away under the constant supervision of doctors and nurses. But with a daughter to rescue, she is determined to break free, whatever the cost . . . 
Praise For Galatea: A Short Story…
Praise for Song of Achilles — ///
"At once a scholar's homage to The Iliad and startlingly original work of art….A book I could not put down." — Ann Patchett, author of The Dutch House
"Sharply written, cleverly re-imagined. . . . Incredibly rewarding." — USA Today
"Wildly romantic [and] surprisingly suspenseful....[B]ringing those dark figures back to life, making them men again, and while she's at it, us[ing] her passionate companion piece to The Iliad as a subtle swipe at today's ongoing debate over gay marriage. Talk about updating the classics." — Time
"One of the best novelistic adaptations of Homer in recent memory." — Wall Street Journal
"Powerful, inventive, passionate, and beautifully written." — Boston Globe
Praise for Circe — ///
"Circe,' [is] a bold and subversive retelling of the goddess's story that manages to be both epic and intimate in its scope, recasting the most infamous female figure from the Odyssey as a hero in her own right." — Alexandra Alter, New York Times
"One of the most amazing qualities of this novel [is]: We know how everything here turns out - we've known it for thousands of years - and yet in Miller's lush reimagining, the story feels harrowing and unexpected. The feminist light she shines on these events never distorts their original shape; it only illuminates details we hadn't noticed before." — Ron Charles, The Washington Post
"Miller's spell builds slowly, but by the last page you'll be in awe. In prose of dreamlike simplicity, she reimagines the myth of Circe." — People
"So vivid, so layered, you could get lost in it... Whether or not you think you like Greek Mythology, this is just great storytelling. It feels cinematic." — NPR's Here & Now
"The story of Circe's entanglement with Odysseus lasts far beyond the narrative of "The Odyssey," making for compelling material to revisit. But ultimately it's as a character that Circe stands apart....Through her elegant, psychologically acute prose, Miller gives us a rich female character who inhabits the spaces in between." — Colleen Abel, Minneapolis Star Tribune
Ecco, 9780063280519, 64pp.
Publication Date: November 8, 2022
About the Author
Madeline Miller is the #1 New York Times bestselling author of two novels: The Song of Achilles, which won the Orange Women's Prize for Fiction 2012, and Circe, which was short-listed for the Women's Prize for Fiction 2019. Her books have been translated into over thirty two languages. Miller holds an MA in Classics from Brown University, studied in the Dramaturgy department at Yale School of Drama, where she focused on the adaptation of classical texts to modern forms, and taught Latin, Greek, and Shakespeare to high school students for over a decade.