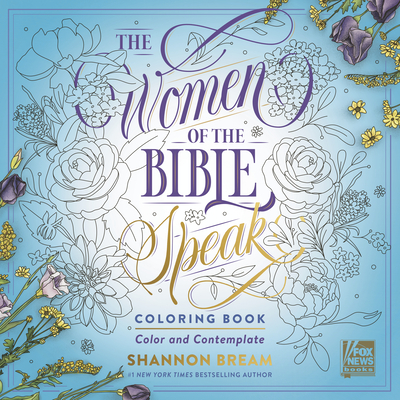 The Women of the Bible Speak Coloring Book
Color and Contemplate
Paperback

* Individual store prices may vary.
Description
Based on Shannon Bream's #1 New York Times bestselling phenomenon The Women of the Bible Speak, a contemplative companion coloring book filled with  meaningful and beautifully designed quotes from scripture to color in and accompanied by contextual references and passages from Bream's book which illuminate the stories from the women of the Bible.
In The Women of the Bible Speak, Shannon Bream reminds you that women have long been essential in God's unfolding plan. Bream explains how their experiences can help you better understand what it means to be a woman of faith. From Sarah, to Miriam, to Mary of Nazareth, you can see your own struggles from the wisdom and lessons of the lives of the Biblical women. As you color, you'll find the motivation to better navigate your personal faith journeys. These unique women provide inspiration and guidance, and their stories show you that no matter how fearful, weak, or inadequate you may feel, God always has a plan for you.
Bream drives home the message of her inspiring bestseller through the bible quotes in the coloring book that can be personalized, colored, and framed. Containing 36 verses from scripture to be colored in and context from Bream's bestseller, The Women of the Bible Speak Coloring Book will allow you to connect to your faith and contemplate your prayerful relationship with God. Filling in the biblical verses in this coloring book and thinking about the messages accompanying each one can help us discover more about the Bible, solidify our faith, and immerse ourselves in the undeniable power of love and God.
Here are examples of verses that you will be contemplating and coloring in this book:
"God listened to her"
Genesis 30:22
"We will not fear"
Psalm 26:2
"Woman, you are set free"
Luke 13:12
"She can laugh at the days to come"
Proverbs 31:25
Harper Design, 9780063307407, 80pp.
Publication Date: February 7, 2023
About the Author
SHANNON BREAM is the author of the #1 New York Times bestseller The Women of the Bible Speak, the anchor of Fox News @ Night, and the chief legal correspondent for Fox News Channel. She has covered landmark cases at the Supreme Court and heated political campaigns and policy battles from the White House to Capitol Hill.