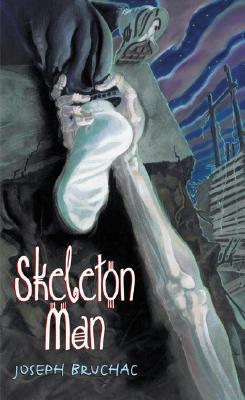 Skeleton Man (Paperback)
HarperCollins, 9780064408882, 128pp.
Publication Date: August 5, 2003
* Individual store prices may vary.
Description
A chilling, own-voices middle-grade novel featuring a brave young girl, missing parents, and a terrifying stranger, based on a Native American legend.
Molly's father, who grew up on the Mohawk Reserve of Akwesasne, always had the best scary stories. One of her favorites was the legend of Skeleton Man, a gruesome tale about a man with such insatiable hunger he ate his own flesh before devouring those around him.
But ever since her parents mysteriously vanished, those spooky tales have started to feel all too real.
R.L. Stine, New York Times bestselling author of the Goosebumps series, raved, "This book gave ME nightmares!"
About the Author
Joseph Bruchac is the author of Skeleton Man, The Return of Skeleton Man, Bearwalker, The Dark Pond, and Whisper in the Dark, as well as numerous other critically acclaimed novels, poems, and stories, many drawing on his Abenaki heritage. Mr. Bruchac and his wife, Carol, live in upstate New York, in the same house where he was raised by his grandparents. You can visit him online at www.josephbruchac.com.
Praise For Skeleton Man…
"The legend is chilling—and the terror builds on every page. This book gave ME nightmares!"
— R. L. Stine, New York Times bestselling author of the Goosebumps and Fear Street series

★ "An incredibly scary story that will make hearts beat and brows sweat."
— School Library Journal (starred review)

"Bruchac vigorously cranks up the suspense, and pits a ghastly creature against a resourceful young heroine who draws both on courage and cultural tradition. A natural for under-the-blanket reading."
— Kirkus

"Bruchac gives full play to his talent for the creepy, and the introduction of bits of American Indian lore and story are smoothly and capably integrated. Reluctant as well as eager readers will relish this fast-paced supernatural chase."
— Bulletin for the Center for Children's Books

"Although it's steeped in Mohawk lore and tradition, Bruchac's story is contemporary both in its setting and its celebration of the enduring strength and courage of Native American women."
— ALA Booklist

"The mix of traditional and contemporary cultural references adds to the story's haunting appeal, and the quick pace and suspence will likely hold the interest of young readers."
— Publishers Weekly