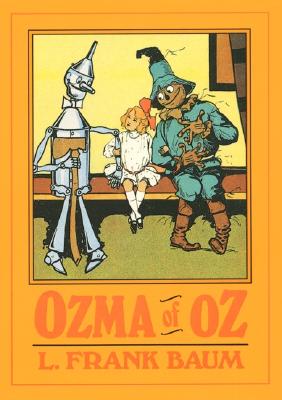 Ozma of Oz (Paperback)
HarperCollins, 9780064409629, 272pp.
Publication Date: August 21, 2001
Other Editions of This Title:
Paperback (7/11/2017)
Paperback (11/11/2017)
Paperback (5/21/2016)
Paperback (3/28/2015)
Paperback (9/11/2017)
Paperback (3/30/2017)
Paperback (6/18/2018)
Paperback (2/10/2019)
Paperback (6/24/2018)
Paperback (4/9/2015)
Paperback (6/18/2018)
Paperback (7/12/2018)
Paperback (5/9/2019)
Paperback (10/9/2014)
Paperback (9/16/2016)
Paperback (12/22/2018)
Paperback (9/21/2017)
Paperback (5/21/2012)
Paperback (8/31/2012)
* Individual store prices may vary.
Description
Readers of all ages will welcome the chance to be reunited with Dorothy Gale and such beloved characters as the Scarecrow, Tin Woodman, and Cowardly Lion, as well as to meet new favorites such as the Hungry Tiger, whose appetite is never satisfied; Princess Langwidere, who has thirty heads; Billina, a talking chicken; and Tiktok, a mechanical man.
Blown overboard while sailing with her uncle, Dorothy finds herself in the fairy realm of Ev. She sets out with her friends to rescue the Queen of Ev and her ten children, who have been imprisoned by the cruel Nome King. But even Ozma, the wise Ruler of Oz, is no match for the clever king, and it's up to Dorothy to save everyone from terrible danger. But will the Nome King's enchantments be too much even for the plucky little girl from Kansas?
Ozma of Oz has delighted children and adults for over eighty years, and now new generations can enjoy the unforgettable characters and the surprising and funny story in this deluxe facsimile of the rare first edition, featuring forty-two of John R. Neill's full-color plates and twenty-one two- color illustrations, as well as a colorful pictorial binding.
Afterword by Peter Glassman. New generations can enjoy this surprising and funny story of the rescue of the royal family of Ev from the evil Nome King in a deluxe facsimile of the rare first edition. A Books of Wonder(R) Classic.
About the Author
L. Frank Baum (1856-1919) published The Wonderful Wizard of Oz in 1900 and received enormous, immediate success. Baum went on to write seventeen additional novels in the Oz series. Today, he is considered the father of the American fairy tale. His stories inspired the 1939 classic film The Wizard of Oz, one of the most widely viewed movies of all time.
Michael Sieben is a professional designer and illustrator, primarily within the sub-culture of skateboarding, whose work has been exhibited and reviewed worldwide as well as featured in numerous illustration anthologies. He is a staff writer and illustrator for Thrasher magazine, and a weekly columnist for VICE.com. He is also a founding member of Okay Mountain Gallery and Collective in Austin, Texas, as well as the cofounder of Roger Skateboards. The author of There's Nothing Wrong with You (Hopefully), he lives and works in Austin.
John R. Neill was born in Philadelphia in 1877. In 1904, at the age of twenty-six, Neill received his first major book assignment, as illustrator for
The Marvelous Land of Oz.
From then until his death in 1943, Neill would illustrate over forty Oz books, including three he wrote himself. Today, his fabulous illustrations are synonymous with Oz.
Peter Glassman is the owner of Books of Wonder, the New York City bookstore and publisher specializing in new and old imaginative books for children. He is also the editor of the Books of Wonder Classics, a series of deluxe facsimiles and newly illustrated editions of timeless tales. And he is the author of The Wizard Next Door, illustrated by Steven Kellogg. Mr. Glassman lives in New York City.
or
Not Currently Available for Direct Purchase