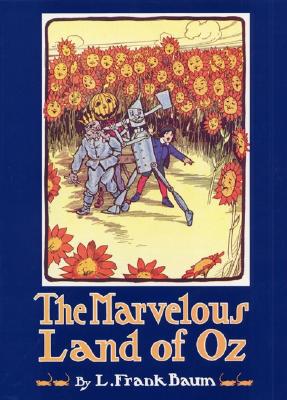 The Marvelous Land of Oz (Paperback)
HarperCollins, 9780064409636, 320pp.
Publication Date: August 21, 2001
Other Editions of This Title:
Paperback (11/11/2017)
Paperback (4/9/2015)
Paperback (11/29/2012)
Paperback (3/27/2017)
Paperback (7/1/2018)
Paperback (6/24/2018)
Paperback (9/30/2017)
Paperback (4/13/2017)
Paperback (9/11/2017)
Paperback, Large Print (10/11/2007)
Paperback (8/31/2012)
Paperback (5/30/2008)
Paperback (6/21/2018)
Paperback (5/23/2018)
Paperback (6/21/2018)
Paperback (9/14/2017)
Paperback (4/7/2019)
Paperback (12/11/2017)
Paperback (2/17/2014)
* Individual store prices may vary.
Description
Few fantasy lands have captured our hearts and imaginations as has the marvelous land of Oz. For over four generations, children and adults alike have reveled in the magical adventures of its beloved folk. Now, for the first time in over seventy years, the second book about Oz is presented here in the same deluxe format as the rare first edition, complete with all 16 of the original John R. Neill color plates, its colorful pictorial binding, and the many black-and-white illustrations that bring it to joyous life.
First issued in 1904, L. Frank Baum's The Marvelous Land of Oz is the story of the wonderful adventures of the young boy named Tip as he travels throughout the many lands of Oz. Here he meets with our old friends the Scarecrow and Tin Woodman, as well as some new friends like Jack Pumpkinhead, the Wooden Sawhorse, the Highly Magnified Woggle-Bug, and the amazing Gump. How they thwart the wicked plans of the evil witch Mombi and overcome the rebellion of General Jinjur and her army of young women is a tale as exciting and endearing today as it was when first published over eighty years ago.
Afterword by Peter Glassman. A facsimile of the rare first edition, complete with all 16 original color plates, a colorful pictorial binding, and over 125 of Neill's drawings. A Books of Wonder(R) Classic.
About the Author
L. Frank Baum (1856-1919) published The Wonderful Wizard of Oz in 1900 and received enormous, immediate success. Baum went on to write seventeen additional novels in the Oz series. Today, he is considered the father of the American fairy tale. His stories inspired the 1939 classic film The Wizard of Oz, one of the most widely viewed movies of all time.
Michael Sieben is a professional designer and illustrator, primarily within the sub-culture of skateboarding, whose work has been exhibited and reviewed worldwide as well as featured in numerous illustration anthologies. He is a staff writer and illustrator for Thrasher magazine, and a weekly columnist for VICE.com. He is also a founding member of Okay Mountain Gallery and Collective in Austin, Texas, as well as the cofounder of Roger Skateboards. The author of There's Nothing Wrong with You (Hopefully), he lives and works in Austin.
John R. Neill was born in Philadelphia in 1877. In 1904, at the age of twenty-six, Neill received his first major book assignment, as illustrator for
The Marvelous Land of Oz.
From then until his death in 1943, Neill would illustrate over forty Oz books, including three he wrote himself. Today, his fabulous illustrations are synonymous with Oz.
Peter Glassman is the owner of Books of Wonder, the New York City bookstore and publisher specializing in new and old imaginative books for children. He is also the editor of the Books of Wonder Classics, a series of deluxe facsimiles and newly illustrated editions of timeless tales. And he is the author of The Wizard Next Door, illustrated by Steven Kellogg. Mr. Glassman lives in New York City.
or
Not Currently Available for Direct Purchase