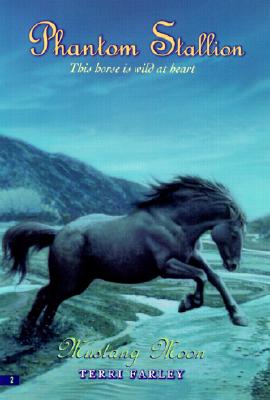 Mustang Moon (Paperback)
Avon Books, 9780064410861, 240pp.
Publication Date: July 23, 2002
* Individual store prices may vary.
Description
When 13-year-old Samantha returns home to her family′s cattle ranch in Nevada, she′s worried. She moved away two years ago to recover from a bad fall off her beloved mustang, Blackie, and she′s still not sure she can get back in the saddle. Her new colt doesn′t seem to like her, and the other ranchers treat her like the boss′s spoiled daughter, and Blackie has been missing since that fateful day.
But that′s just the beginning. When Sam suddenly finds the fate of a mysterious mustang who may or may not be the missing Blackie resting in her hands, she has to learn to be a real cowgirl, ready or not. The classic theme of a girl and her horse is set against a backdrop of mustangs, tumbleweeds, and a West that′s still Wild.
Phantom Stallion #2: Mustang Moon
A rogue mustang is stealing mares, but the Phantom is taking the blame. It′s up to Sam to defend his innocence and his life.
Ages 10+
or
Not Currently Available for Direct Purchase