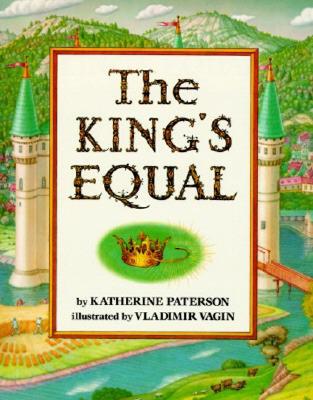 The King's Equal (Paperback)
HarperCollins, 9780064433969, 64pp.
Publication Date: January 18, 1996
Description
Who is she?
A dying king makes his son his heir--on one condition. Vain Prince Raphael must marry a woman who is his equal in beauty, intelligence, and wealth...
Where is this woman?
A search throughout the kingdom proves fruitless. Then the lovely Rosamund appears at the palace, as if by magic, and Raphael is certain he has found his wife. She is intelligent and wealthy, as well as beautiful--certainly his equal, he thinks.
But what does the mysterious Rosamund think?
"Finding a princess who is the 'king's equal' in comeliness, intelligence, and wealth is an order that confounds the wisest, most loyal councilors in this distant realm. Finding a book equal in quality to this one is an even more formidable task. Newbery medalist] Paterson weaves her story within the structure of familiar fairy tales. . . . Vagin's illustrations are exquisite." --SLJ.
1993 Teachers' Choices (IRA)
1992 Irma Simonton Black Award (Bank Street College of Education)
1993 Children's Booksellers' Choices (Association of Booksellers for Children)
Advertisement