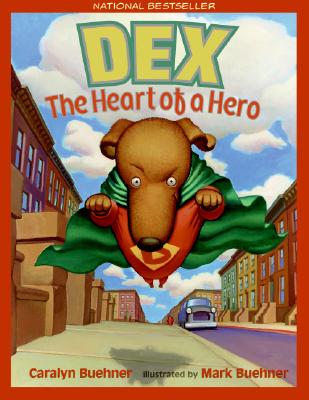 Dex
The Heart of a Hero
Paperback

* Individual store prices may vary.
Description
The national bestselling story about the underdog who comes out on top!
Little Dex has big dreams: he wants to be a superhero. So he reads all the comic books he can, builds his muscles, and even orders a hero costume. Once he has all the makings of a hero, Dex's first mission is to save a tomcat in need of help. However, the cat is a classic bully who teases Dex about his size.
Will Dex learn that a hero is not defined by the strength of his muscles but by the trueness of his heart?
Husband and wife Caralyn and Mark Buehner tag-team to create a fun and modern superhero tale with a real comic book feel, askin to Even Superheroes Have Bad Days by Shelly Becker and Ten Rules of Being a Superhero by Deb Pilutti.
Dexter has determination, spirit, and heart as he proves, above all, that no matter how little you are, you can still do very big things.
And don't miss the companion story, Superdog: The Heart of a Hero!
Praise For Dex: The Heart of a Hero…
"Mark Buehner's energetic illustrations…are full of bright colors and humorous details." — Washington Post
HarperCollins, 9780064438452, 32pp.
Publication Date: May 22, 2007
About the Author
Caralyn and Mark Buehner have created many charming children's books together, including Snowmen at Night, The Escape of Marvin the Ape, and Fanny's Dream. In addition to the books they have done together, Caralyn has written I Want to Say I Love You, illustrated by Jacqueline Rogers, and Mark has illustrated many beautiful books for children, including Christmas Day in the Morning by Pearl S. Buck and Harvey Potter's Balloon Farm by Jerdine Nolan. The husband-and-wife team live in Salt Lake City, Utah, with their seven children and their superdog, Carmy.
Marl Buehner has six little pilgrims of his own in Salt Lake City, Utah, where he lives with his wife, Caralyn, and their children: Heidi, Grant, Sarah, Samuel, Laura, and Jake. Mark has illustrated many wonderful children's books, including I Am the Cat by Alice Schertle and Harvy Potter's Balloon Farm by Jerdine Nolen.