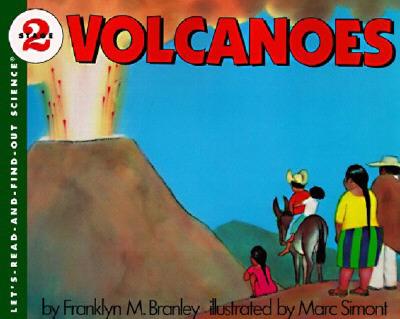 Volcanoes (Let's-Read-and-Find-Out Science 2) (Paperback)
HarperCollins, 9780064450591, 32pp.
Publication Date: October 9, 1986
Other Editions of This Title:
Paperback (3/25/2008)
Prebound (10/1/1986)
Paperback (12/28/2000)
Hardcover (3/25/2008)
* Individual store prices may vary.
Description
'This trim overview gives young readers an excellent grounding on volcanoes in an efficient few words. There [is] a succinct and easily readable explanation of how volcanoes are caused by magma pushing up between (or through) moving plates in the Earth's crust. Then comes a pair of snappy maps, with bright little bursts of color denoting the Pacific Ring of Fire and other volcano locations throughout the world.' 'K.
1985 Best of the Season (Science Books and Films)
About the Author
Franklyn M. Branley was the originator of the Let's-Read-and-Find-Out Science series and the author of close to 150 popular books about scientific topics for young readers of all ages. He was Astronomer Emeritus and former Chairman of the American Museum of Natural History-Hayden Planetarium.
Marc Simont was born in 1915 in Paris. His parents were from the Catalonia region of Spain, and his childhood was spent in France, Spain, and the United States. Encouraged by his father, Joseph Simont, an artist and staff illustrator for the magazine L'Illustration, Marc Simont drew from a young age. Though he later attended art school in Paris and New York, he considers his father to have been his greatest teacher.
When he was nineteen, Mr. Simont settled in America permanently, determined to support himself as an artist. His first illustrations for a children's book appeared in 1939. Since then, Mr. Simont has illustrated nearly a hundred books, working with authors as diverse as Margaret Wise Brown and James Thurber. He won a Caldecott Honor in 1950 for illustrating Ruth Krauss's The Happy Day, and in in 1957 he was awarded the Caldecott Medal for his pictures in A Tree is Nice, by Janice May Udry.
Internationally acclaimed for its grace, humor, and beauty, Marc Simont's art is in collections as far afield at the Kijo Picture Book Museum in Japan, but the honor he holds most dear is having been chosen as the 1997 Illustrator of the Year in his native Catalonia. Mr. Simont and his wife have one grown son, two dogs and a cat. They live in West Cornwall, Connecticut. Marc Simont's most recent book is The Stray Dog.