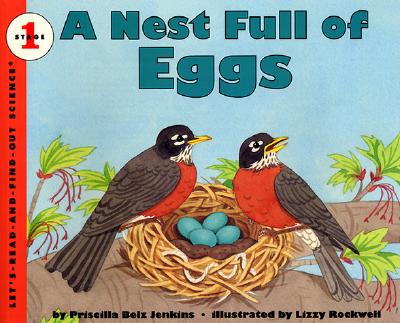 A Nest Full of Eggs (Let's-Read-and-Find-Out Science 1 #1) (Paperback)
HarperCollins, 9780064451277, 32pp.
Publication Date: April 20, 1995
Other Editions of This Title:
Paperback (8/4/2015)
Prebound (5/1/1995)
* Individual store prices may vary.
Description
What's inside that pretty blue egg?
A baby bird is growing inside that egg. Slowly the bird develops, until one day it cracks through the shell. Safe inside the nest, under the care of its parents, the chick grows stronger. Soon it will learn how to fly and take care of itself. By next spring it will be ready to build its own nest and raise chicks of its own.
About the Author
Priscilla Belz Jenkins is the author of two other books in the Let's-Read-and-Find-Out Science series: A Nest Full of Eggs, illustrated by Lizzy Rockwell, and Falcons Nest on Skyscrapers, illustrated by Megan Lloyd. Ms. Jenkins lives in San Rafael, CA.
Anne and Lizzy Rockwell have collaborated on all the Mrs. Madoff books, including St. Patrick's Day and Presidents' Day, and Who Lives in an Alligator Hole? in the Let's-Read-and-Find-Out Science series. Anne is the author of What's So Bad About Gasoline?; Brendan and Belinda and the Slam Dunk!; Why Are the Ice Caps Melting?; and Only Passing Through: The Story of Sojourner Truth. Lizzy is the author-illustrator of Good Enough to Eat; The Busy Body Book; and Hello Baby! Both Anne and Lizzy live in Connecticut.
or
Not Currently Available for Direct Purchase