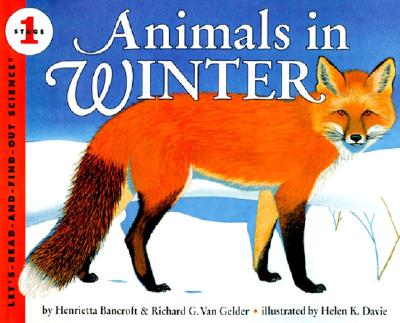 Animals in Winter (Let's-Read-and-Find-Out Science 1 #1)
Paperback

* Individual store prices may vary.
Other Editions of This Title:
Hardcover (1/1/1997)
Prebound (1/1/1997)
Prebound (12/13/1996)
Hardcover (12/30/1996)
Description
Have you ever seen a butterfly in the snow? Probably not. Butterflies can't survive cold weather, so when winter comes, many butterflies fly to warmer places. They migrate. Woodchucks don't like cold weather either but they don't migrate; they hibernate. Woodchucks sleep in their dens all winter long. Read and find out how other animals cope with winter's worst weather. This nonfiction picture book is an excellent choice to share during homeschooling, in particular for children ages 4 to 6. It's a fun way to learn to read and as a supplement for activity books for children.
This is a Level One Let's-Read-and-Find-Out Science title, which means the book explores more challenging concepts for children in the primary grades and supports the Common Core Learning Standards, Next Generation Science Standards, and the Science, Technology, Engineering, and Math (STEM) standards. Let's-Read-and-Find-Out is the winner of the American Association for the Advancement of Science/Subaru Science Books & Films Prize for Outstanding Science Series.
HarperCollins, 9780064451659, 32pp.
Publication Date: December 13, 1996
About the Author
Henrietta Bancroft taught nature study and elementary science at the Walden School in New York.
Richard G. Van Gelder was the chairman of the Mammology Department at the American Museum of Natural History in New York City.
Helen K. Davie has illustrated many books for children, including What Lives in a Shell? by Kathleen Weidner Zoehfeld, and Echoes for the Eye: Poems to Celebrate Patterns in Nature by Barbara Juster Esbensen. Ms. Davie lives in San Jose, CA.

Helen K. Davie's lovely watercolors have appeared in many children's books, including
What Lives in a Shell?
by Kathleen Weidner Zoehfield, and
Animals in Winter
by Henrietta Bancroft and Richard G. Van Gelder. She lives in Templeton, CA.