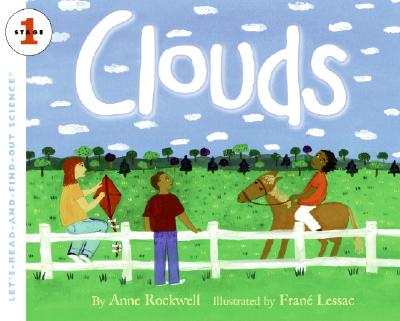 Clouds (Let's-Read-and-Find-Out Science 1)
Paperback

* Individual store prices may vary.
Description
Read and find out about how to forecast a change in weather by looking at the clouds in this colorfully illustrated nonfiction picture book.
At any given time, more than half the earth is covered with different types of clouds. Some are dark and scary rain clouds, and some are just big white puffs. What kind of cloud is in the sky above you, and what can you uexpect the weather to be? Instead of turning on the TV to find out what the weather will be, you can look out your window at the clouds.
This clear and appealing science book for early elementary age kids, both at home and in the classroom, is a Level 1 Let's-Read-and-Find-Out, which means the book explores introductory concepts perfect for children in the primary grades. The 100+ titles in this leading nonfiction series are:
hands-on and visual
acclaimed and trusted
great for classrooms
Top 10 reasons to love LRFOs:
Entertain and educate at the same time
Have appealing, child-centered topics
Developmentally appropriate for emerging readers
Focused; answering questions instead of using survey approach
Employ engaging picture book quality illustrations
Use simple charts and graphics to improve visual literacy skills
Feature hands-on activities to engage young scientists
Meet national science education standards
Written/illustrated by award-winning authors/illustrators & vetted by an expert in the field
Over 130 titles in print, meeting a wide range of kids' scientific interests
Books in this series support the Common Core Learning Standards, Next Generation Science Standards, and the Science, Technology, Engineering, and Math (STEM) standards. Let's-Read-and-Find-Out is the winner of the American Association for the Advancement of Science/Subaru Science Books & Films Prize for Outstanding Science Series.
HarperCollins, 9780064452205, 40pp.
Publication Date: November 11, 2008
About the Author
Anne Rockwell is a pioneer in the field of nonfiction for very young children. She has more than a hundred books to her credit, including Why Are the Ice Caps Melting? and Clouds in the Let's-Read-and-Find-Out Science series. She lives in Greenwich, Connecticut.
Frané Lessac is an American who has traveled all over the world. She now lives in Fremantle, Australia, but always looks forward to visiting Texas with her family. To bring the Lone Star State to life with gouache paints, Frané did extensive research using a video camera, a still camera, and actual and virtual tours. She is the illustrator of more than thirty books for children, including Capital! Washington D.C. from A to Z and New York, New York! The Big Apple from A to Z, both by Laura Krauss Melmed.
or
Not Currently Available for Direct Purchase