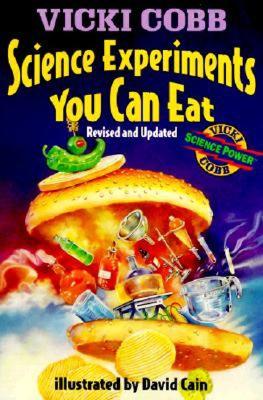 Science Experiments You Can Eat (Paperback)
Revised Edition
HarperCollins, 9780064460026, 224pp.
Publication Date: November 14, 1984
Other Editions of This Title:
Paperback (7/5/2016)
Prebound (11/14/1984)
Paperback (1/1/1972)
* Individual store prices may vary.
Description
Science never tasted so good!
Dig into a feast of fun—where you're the scientist and the kitchen is your laboratory! Discover what it takes to make sugar crystallize into rock candy, what moisture has to do with popping popcorn, and how proteins are essential in making cakes and muffins rise. And after you've tested your theories and made some amazing discoveries, you can actually eat your results!
Vicki Cobb's Science Experiments You Can Eat has stood the test of time, filling the minds—and stomachs—of kids for more than forty years. Now with revised and updated material that includes clever new procedures, many new experiments, and vital information on nutrition, a whole new generation of readers can devour this cornucopia of food for thought.
About the Author
Vicki Cobb is the author of many award-winning science books for young people. With degrees from Barnard College and Columbia University Teachers College, Vicki enjoyed an early career as a science teacher. She now devotes all her time to writing and speaking to teachers, children, and librarians all over the country. She frequently writes for the Huffington Post and is also the founder and president of iNK Think Tank, an organization dedicated to getting high-quality nonfiction books into classrooms. To find out what recent science experiment Vicki has been cooking up, visit her online at www.vickicobb.com. 
Tad Carpenter is a designer, illustrator, teacher, and author. He has written and illustrated over a dozen books for readers of all ages. Tad runs his design and branding studio, Carpenter Collective, with his wife, Jessica, in Kansas City, Missouri. Visit him online at tadcarpenter.com.