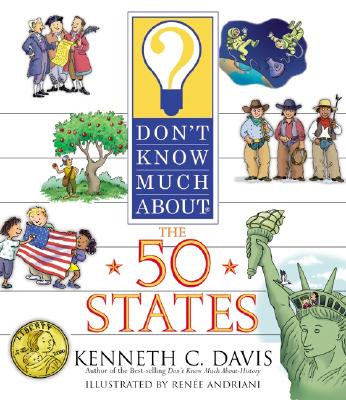 Don't Know Much About the 50 States (Paperback)
HarperCollins, 9780064462273, 64pp.
Publication Date: April 13, 2004
Other Editions of This Title:
Hardcover (7/24/2001)
* Individual store prices may vary.
Description
Thirteen stripes-
Fifty stars-
And hundreds of AMAZING facts about the U.S.A.!
Can you guess the names of the ten states below?
1. I have the highest waterfalls in North America.
2. I am the smallest state.
3. I am the largest state.
4. I have produced the most presidents of the United States.
5. I was the first to become a state.
6. I was the last to become a state.
7. I have the "Gateway to America."
8. I have the most kids under age ten.
9. I have the most tornadoes.
10. I am home to America's most popular vacation spot.See page 6 for answers.
About the Author
Kenneth C. Davis is the New York Times bestselling author of A Nation Rising; America's Hidden History; and Don't Know Much About® History, which spent thirty-five consecutive weeks on the New York Times bestseller list, sold more than 1.6 million copies, and gave rise to his phenomenal Don't Know Much About® series for adults and children. A resident of New York City and Dorset, Vermont, Davis frequently appears on national television and radio and has been a commentator on NPR's All Things Considered. He blogs regularly at www.dontknowmuch.com.
Praise For Don't Know Much About the 50 States…
"A bright, cheery romp through the states."
— School Library Journal