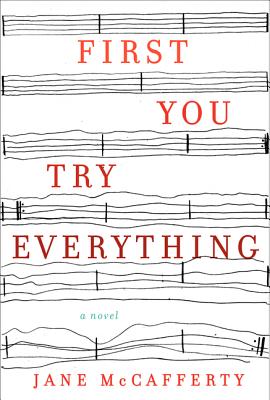 First You Try Everything (Hardcover)
Harper, 9780066210629, 304pp.
Publication Date: January 1, 2012
* Individual store prices may vary.
Description
Prize-winning author Jane McCafferty delivers a wry, engrossing, and provocative tale of the radical chances an anguished woman will take to try to save her crumbling marriage. As love's loss and the death of dreams push Evie to the edge of obsession and to a spectacularly outlandish scheme, one which will have unexpected consequences for all involved. Following her acclaimed debut novel One Heart, which Elizabeth Strout, author of Amy and Isabelle, calls "a lovely book, full of surprises, with characters that stay in your heart long after the book has been put down," McCafferty's First You Try Everything is a piercing, surprising, and sympathetic look at the emotional fallout of divorce and the unforeseeable changing tides of love.

Praise For First You Try Everything…
"[An] evocative read. . . . A gimlet-eyed story of divorce and love, which bristles with pain and beauty. . . . Set amid the gritty splendor of Pittsburgh, the novel masterfully conveys both the youthful love that Ben and Evvie once shared and why it has fizzled."
-Marie Claire

"With the plainspoken beauty of her prose and the convincing way the novel inhabits each protagonist's consciousness…McCafferty has given us a story of shattered illusions, essential as long as humans have dreams from which they need to wake up."
-Cleveland Plain Dealer

"McCafferty maintains complete control, alternating points of view between the two parties with empathy and aplomb. Glowing with natural humor . . . as the story develops in McCafferty's warm, steady voice, you stay enchanted to the bitter end."
-Pittsburgh Post-Gazette

"[A] life-stopping novel by Jane McCafferty (a crackerjack of a writer) . . . about heartbreak--as it happens to all of us. McCafferty's gift is character, and she creates such singular, riveting personalities that you're laughing and puzzling out whole new understandings of the world."
-O, the Oprah Magazine blog

"McCafferty's second novel coins its own brand of heart-searing suspense. . . . Fans of Anne Tyler, Jacquelyn Mitchard, and other top-drawer domestic fiction writers will enjoy this unpredictable, offbeat novel."
-Library Journal

"[A] deeply moving portrait of the dissolution of a marriage . . . [with] heartrending scenes illuminating the pain of separation, both for the one leaving and the one left."
-Booklist

"[A] sensitive, offbeat second novel. . . . [that] offers some nicely observed insights into guilt and despair . . . until heartbreak and delusion lead to an act of lunacy that will redefine the landscape. Everyday tragedy takes a surreal spin in this . . . soulful, idiosyncratic tale."
-Kirkus

"Jane McCafferty knows how marriage can go stale, how it can turn and curdle despite a couple's best intentions and efforts. Wise, wry and surprising, First You Try Everything is about the mad things we do to hang on to lost love."
-Stewart O'Nan, author of Emily, Alone and The Odds

"The tools in Jane McCafferty's anatomy lab: big heart, big brain, jars of funny bones, twine of poetic prose. Under the microscope one finds expanding constellations, other times the minute dna of words combining beautifully with other words. Either way the reader sits back in charged happiness at the discoveries."
-Nancy Zafris, author of Lucky Strike and The Metal Shredders

"Told in direct, plain-spoken language, Jane McCafferty's first novel gathers genuine emotional depth and complexity as it follows the lives of two middle-aged sisters, Ivy and Gladys, and the 17-year-old girl, Raelene, who befriends them. When the book o
-New York Times Book Review

"[This] first novel focuses on the life-altering effects of love, loss and abandonment... McCafferty gives readers a...view of the nature of personal transformation."
-Publishers Weekly
or
Not Currently Available for Direct Purchase