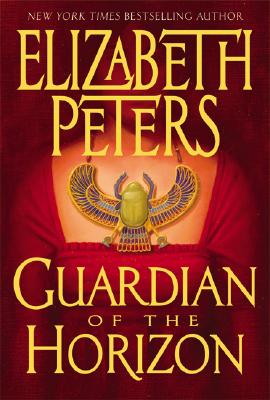 Guardian of the Horizon (Hardcover)
William Morrow & Company, 9780066214719, 416pp.
Publication Date: April 1, 2004
Other Editions of This Title:
Digital Audiobook (7/27/2004)
Digital Audiobook (6/28/2004)
Mass Market (3/29/2005)
Paperback, Large Print (4/13/2004)
Mass Market (8/30/2011)
Audio Cassette (3/30/2004)
Compact Disc, Abridged, Abridged (3/30/2004)
* Individual store prices may vary.
Description
A hitherto lost journal of the indomitable Amelia Peabody has been miraculously recovered: a chronicle from one of the "missing years" -- 1907-1908 -- shedding new light on an already exceptional career, a remarkable family . . . and an unexpected terror.
Ousted from their most recent archaeological dig and banned forever from the Valley of the Kings, the Emersons are spending a quiet summer at home in Kent, England, when a mysterious messenger arrives. Claiming to be the teenage brother of their dear friend Tarek, prince of the mysterious Lost Oasis, the charismatic herald brings troubling news of a strange malady that has struck down Tarek's heir and conveys his brother's urgent need for help only the Emersons can provide.
Driven by loyalty -- and a fear that the evil forces opposing Tarek's rule will now exploit the royal heir's grave illness -- the family sets off in secret for the land time forgot -- a mountain fortress from which they narrowly escaped ten years before. Braving the treacherous desert climate on a trek fraught with danger at every turning, guided only by a crumbling map, the Emersons are unaware that deception is leading them onward into a nest of vipers -- where a dreadful fate may await. For young Ramses, forced to keep his growing love for the beautiful Nefret secret, temptation along the way may prove his ultimate undoing. And a dark past and grim obligation have ensnared Nefret once again, as she is helpless to save those she loves most from the prison of the Lost Oasis.
Guardian of the Horizon is rich with suspense, surprises, unforgettable characters, and the intoxicating atmosphere that has earned its author the coveted title of Grand Master two times over. The remarkable Elizabeth Peters proves once again that, in the world of historical adventure fiction, she is truly without peer.
or
Not Currently Available for Direct Purchase