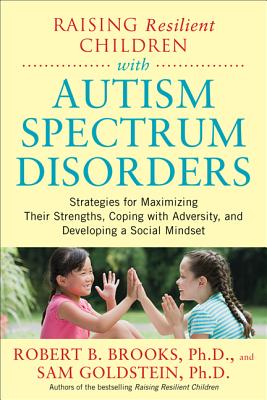 Raising Resilient Children with Autism Spectrum Disorders
Strategies for Maximizing Their Strengths, Coping with Adversity, and Developing a Social M
Paperback

* Individual store prices may vary.
Description
New hope for parents raising a child with autism spectrum disorders
In Raising Resilient Children with Autism Spectrum Disorders, noted psychologists and bestselling authors Dr. Goldstein and Dr. Brooks teach you the strategies and mindset necessary to help your child develop strength, hope, and optimism. This is the first approach for autism spectrum disorders based in the extremely popular field of positive psychology.
Drs. Brooks and Goldstein--world-renowned experts on child psychology and, specifically, resilience--offer you practical tips for long-term solutions rather than just quick fixes. Featuring dozens of stories and an easy-to-follow, prescriptive narrative, Drs. Brooks and Goldstein demonstrate how to apply resilience to every parenting practice when raising a child with autism spectrum disorders, preparing him or her for the challenges of today's complicated, ever-changing world and helping your child develop essential social skills.
Learn how to:
Empower your child to problem-solve on his or her own
Teach your child to learn from mistakes rather than feel defeated by them
Discipline your child while instilling self-worth
Build an alliance with your child's school
McGraw-Hill Companies, 9780071385220, 288pp.
Publication Date: January 9, 2012