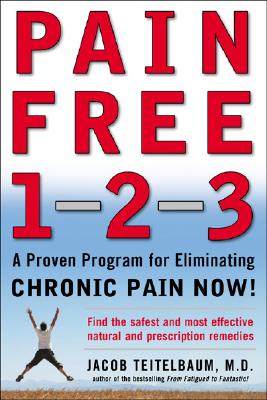 Pain Free 1-2-3
Paperback

* Individual store prices may vary.
Description
The bestselling author of From Fatigued to Fantastic shows chronic pain sufferers how to treat the underlying causes of pain and regain health and vitality
Pain Free 1-2-3 demonstrates the four critical components for healing tissue: getting optimum nutrition and sleep, correcting hormonal levels, and eliminating the factors that put stress on the body. Dr. Jacob Teitelbaum provides more than 100 treatments combining both natural and prescription approaches to guide you on how to aid the body in healing, locate the source of their pain, and tailor treatments for maximum effect.
"An excellent and powerfully effective part of the standard of practice for treatment of people who suffer from fibromyalgia and myofascial pain syndrome." --The Journal of the American Academy of Pain Management
McGraw-Hill Companies, 9780071464574, 320pp.
Publication Date: December 19, 2005
About the Author
Jacob Teitelbaum, M.D., is the medical director of the Center for Effective CFS/Fibromyalgia Therapies in Annapolis, Maryland.