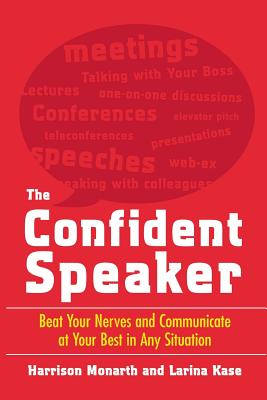 The Confident Speaker (Paperback)
Beat Your Nerves and Communicate at Your Best in Any Situation
McGraw-Hill Education, 9780071481496, 322pp.
Publication Date: May 1, 2007
* Individual store prices may vary.
Description
Speak up and succeed.
"Fear of snakes makes sense. After all, snakes bite On the other hand, fear of public speaking is worth overcoming. This book is an excellent place to start."-Seth Godin, bestselling author of Purple Cow and Free Prize Inside
"Your ability to speak confidently on your feet will impress more people and open more doors than you can imagine. The Confident Speaker shows you how."-Brian Tracy, bestselling author of The Psychology of Selling
"Eureka This book is exactly what every beginning speaker needs."-Dottie Walters, CSP, bestselling author of Speak and Grow Rich
"When we speak in public, we convey our knowledge, our interest in others, and our value. Now, thanks to Monarth and Kase, their book The Confident Speaker opens that door to successful public speaking."-Susan RoAne, bestselling author of How To Work A Room(R)
"Speaking before a group stresses many otherwise capable people, and as a result their anxiety cripples their careers. Monarth and Kase offer the antidote in their highly readable book."-Dianna Booher, bestselling author of Speak with Confidence and Communicate with Confidence
About the Author
Harrison Monarth and Larina Kase are cofounders of TheConfidentSpeaker.com, a public speaking and communication coaching Web site. Monarth is the founder of GuruMaker, a professional speaking consultancy. Kase is a peak performance and anxiety management expert.