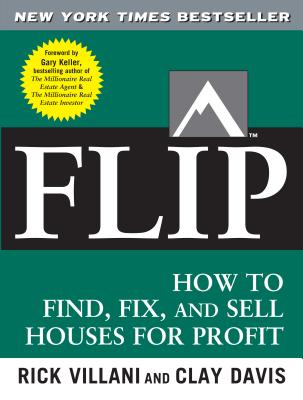 Flip
How to Find, Fix, and Sell Houses for Profit
Paperback

* Individual store prices may vary.
Description
FLIP, the third book in the National Bestselling Millionaire Real Estate Series (More than 500,000 copies sold )
FLIP provides a detailed, step-by-step process to analyze each investment, identify the best improvements, accurately estimate the costs and intelligently oversee the construction. It takes out all the guess work and almost all of the risk.
Here's what industry experts are saying about FLIP:
Read this book before you flip that house FLIP is an indispensable step-by-step guide to flipping houses that you will refer to again and again. -Carlos Ortiz, Executive Producer, FLIP That House (TLC's most popular real estate TV show)
At HomeVestors, we're in the business of buying and selling homes for profit and I can attest that there are few, if any, who can rival Rick's and Clay's expertise when it comes to fixing up houses for profit. This book is a must-read for any investor. -Dr. John Hayes, President and CEO of HomeVestors of America (the largest homebuyer in America)
FLIP is a must-read book for everyone in the real estate business. Every agent should have this book. They should read it and master its contents. Why? Because it is the best guide ever written on how to evaluate real estate and how to add value to a house. -Gary Keller, Founder and Chairman of the Board of Keller Williams Realty International and author of bestselling The Millionaire Real Estate Agent and The Millionaire Real Estate Investor
For anyone looking to build wealth in real estate, FLIP provides a step-by-step approach that really works in any market. -Loral Langemeier, bestselling author of The Millionaire Maker
FLIP extends the national bestselling Millionaire Real Estate series with a step-by-step guide that is quickly becoming the model for successfully finding, fixing and selling investment properties for profit.
Based on their involvement in over a 1,000 flips, Rick Villani and Clay Davis walk you through the proven five-stage model for successfully flipping a house:
FIND: How to select ideal neighborhoods, attract sellers, and find houses with investment potential
ANALYZE: Identify which improvements to make and analyze the profit potential of any house
BUY: How to arrange financing, present the offer, and close on the purchase
FIX: A 50-step, easy-to-follow plan for fixing up houses that keeps you on time, in budget and assures top quality
SELL: How to add finishing touches to quickly sell for maximum profit
Woven through the book is an entertaining narrative that follows the flipping adventures of Samantha, Ed, Bill, Nancy, Amy and Mitch as they find, buy, fix and sell their first investment houses. With all this plus the experience of over a thousand flips condensed into one book, FLIP gives new investors the tools they need to avoid common pitfalls, make a profit, and enjoy the process of house flipping.
Rick Villani and Clay Davis are senior executives at HomeFixers, North America's leading real estate rehab franchise. HomeFixers has been involved in more than 1,000 flips nati.
McGraw-Hill Companies, 9780071486101, 416pp.
Publication Date: February 1, 2007
About the Author
Rick Villani and Clay Davis are senior executives at HomeFixers, North America's leading real estate rehab franchise.