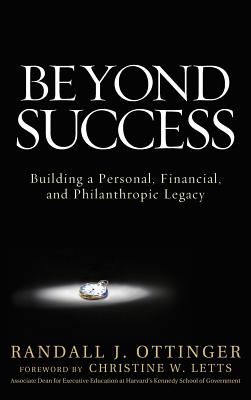 Beyond Success (Hardcover)
Building a Personal, Financial, and Philanthropic Legacy
McGraw-Hill Education, 9780071496766, 329pp.
Publication Date: October 5, 2007
* Individual store prices may vary.
Description
You've worked hard to achieve financial success, and now you want to leave a legacy. You want to know how others like you have made a positive impact with their time and assets. You want to safeguard your money, help others, and do the best for your children-without ruining their motivation to make their own way in the world. But ultimately, you want your contributions to matter.
Beyond Success is the first thorough guide that assists individuals with the achievement of a meaningful and lasting financial, philanthropic, and generational family legacy. As a financial and philanthropic expert, Randall Ottinger combines his personal experiences in both fields with extensive research that draws on insights from hundreds of legacy leaders such as Bill Gates Sr., Jeff Brotman of Costco, and Sandy Weill of Citigroup, as well as thought leaders and advisors in the philanthropy and family wealth professions.
Ottinger reveals best practices and strategies you can adopt to:
Turn money into a meaningful and fulfilling legacy
Make wealth a positive force in your family
Avoid the common pitfalls of family wealth transfers
Prepare children for money
Achieve social impact through "portfolio" philanthropy practices
Preserve wealth, values, and enterprises across future generations
Ottinger develops a legacy planning framework to help translate your goals into measurable action steps for achieving the highest levels of personal fulfillment and social impact. He also provides insights into the latest trends in philanthropy, and examines the likely impact on the civil sector of the $100 trillion of wealth that is transferring from today's baby boomers to future generations.
About the Author
Randall J. Ottinger has been a leader in business, social entrepreneurship, and philanthropy for over 25 years. He is a former high-tech executive and a past Senior Vice President for Bank of America in its Private Bank, where he was involved in their family office initiatives. Mr. Ottinger is the founder of LMR Advisors, a wealth and philanthropy consulting firm, where he advises wealthy clients and financial firms on best wealth, philanthropy, and legacy practices. He is also an active member of Young President's Organization, Advisors In Philanthropy, and Social Venture Partners, as well as a graduate of Cornell University and Harvard Business School.