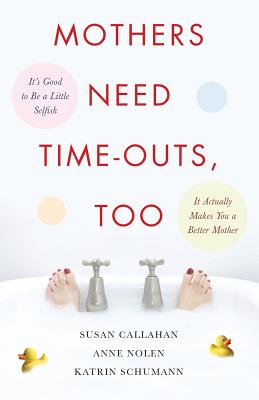 Mothers Need Time-Outs, Too
It's Good to Be a Little Selfish--It Actually Makes You a Better Mother
Paperback

* Individual store prices may vary.
Other Editions of This Title:
Paperback, Spanish (10/30/2008)
Description
Whether you're the mother of toddlers or teens, work inside the home or out-- if you're exhausted from trying to be perfect, this book can help you. Mothers Need Time-Outs, Too uses hundreds of real-life stories and mom-tested tips to demonstrate how taking time-outs will transform your life. Practical and inspiring, this book will launch you on a voyage of discovery that takes you back to yourself, and it will help you become the best mother you can be by becoming the best woman you can be.
Written by moms, for moms, this book will help you create a happier, healthier, more fulfilling life for you and your family. The authors draw on their own extensive experience and that of hundreds of women around the world, and bring to light a variety of helpful resources--from cutting-edge studies to Eastern philosophies--to create this innovative, inspiring, and easy-to-use guide.
With this book, you'll learn how to
Live a more deliberate, more purposeful, more satisfying life
Say goodbye to the constant guilt of not measuring up by embracing your personal mothering style
Enjoy your children more and feel close to your husband again
The authors reveal their own unvarnished turning points, share stories they've gathered from the trenches, and present eye-opening research to show how a little selfishness can bring a whole new sense of purpose and energy to stressed-out modern mothers.
"Take some 'me' time. It's good for you and your family. Want proof? Check out Mothers Need Time-Outs, Too by Susan Callahan, Anne Nolen, and Katrin Schumann, which gives voice to hundreds of moms who've done it."
--Woman's Day
McGraw-Hill Companies, 9780071508070, 288pp.
Publication Date: March 1, 2008
About the Author
Susan Callahan, Anne Nolen, and Katrin Schumann are friends and mothers who live and work in the Boston area. Among them, they have ten kids and more than thirty-five years of experience raising children. They represent a range of parenting lifestyles, from stay-at-home mom to mom with a full-time career.