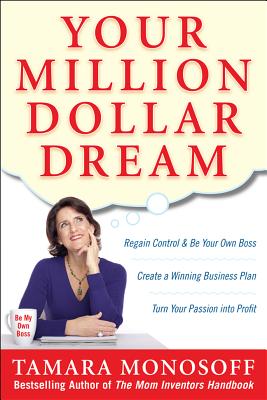 Your Million Dollar Dream (Paperback)
McGraw-Hill Education, 9780071629430, 314pp.
Publication Date: April 29, 2010
Description
Create your "someday" life TODAY
"Get ready to let your dreams take flight Tamara taught me things I wish I'd known years ago; it would have saved me a lot of time and money."
Jamie Novak, founder of www.BiteSizeLiving.com and author of Stop Throwing Money Away and The Get Organized Answer Book
"A heart-pounding read for entrepreneurs who want answers to all those nagging questions. Read it and fly."
Nell Merlino, creator of the Take Our Daughters to Work Day and Make Mine a Million $ Business programs and author of Stepping Out of Line
Link your dream to practical business possibilities
Identify your skills and motivations
Create an effective business plan
Use Twitter and Facebook as powerful business tools
Find the funding to support your business
About the Author
Tamara Monosoff is the author of the bestselling books The Mom Inventors Handbook, Secrets of Millionaire Moms, and coauthor of The One Page Business Plan for Women in Business. She has appeared on Today, Good Morning America, NBC Nightly News, The View, CNN, and the front page of The Wall Street Journal and is a columnist for Entrepreneur.com.
Advertisement