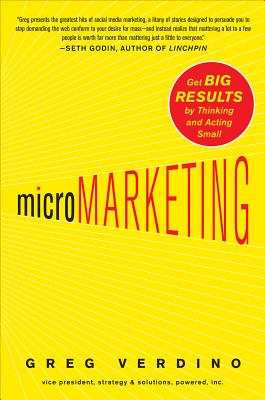 Micromarketing (Hardcover)
Get Big Results by Thinking and Acting Small
McGraw-Hill Education, 9780071664868, 260pp.
Publication Date: August 13, 2010
* Individual store prices may vary.
Description
Praise for microMARKETING
"Greg presents the greatest hits of social media marketing, a litany of stories designed to persuade you to stop demanding the web conform to your desire for mass--and instead realize that mattering a lot to a few people is worth far more than mattering just a little to everyone." --SETH GODIN, author of Linchpin
"Micromarketing is big marketing. Now anybody can dominate a market. Especially you. So what are you waiting for?" --DAVID MEERMAN SCOTT, bestselling author of The New Rules of Marketing & PR
"Makes the case for the death of mass marketing in a compelling way."
-- AL RIES, coauthor of War in the Boardroom
"
microMARKETING
offers a hopeful vision for anyone who has ever had to create a great marketing plan without a million-dollar budget or an army of resources."
--ROHIT BHARGAVA, author of Personality Not Included and senior vice president at Ogilvy 360 Digital Influence
"Shows how big became pass and proves that in our overhyped society the teeniest push is the way in." --RICHARD LAERMER, author of 2011 and CEO of RLM PR
"Follow Greg's seven shifts from mass to micro and you'll be a micromaven, capturing the attention of your audience, before you know it." --DONNA M. TOCCI, Director, Web/New Media, Ingersoll Rand
"Filled with fresh strategies for engaging fragmented markets and frazzled customers." --JILL KONRATH, bestselling author of SNAP Selling and Selling to Big Companies
"A must-read for anyone in marketing or technology." --DARREN HERMAN, Chief Digital Media Officer, kirshenbaum bond senecal + partners
"Will help businesses move from a fading era of mass marketing to embrace a meaningful genre of micro collaboration that builds macro markets." --BRIAN SOLIS, author of Engage and founder of BrianSolis.com
About microMARKETING
Every day the world sees 1 million new blog posts, tens of millions of tweets, hundreds of millions of new pieces of Facebook content, and more than 1 billion YouTube videos.
Where does your brand fit in?
In our age of information saturation, consumer attention is the scarcest commodity of all--which makes your job tougher than ever. How do you thread your messages through billions of bite-sized information snapshots to reach the right people? One thing's for sure, you're not going to succeed using traditional approaches. Mass marketing is dead; the next big thing is indeed very small.
microMARKETING empowers you to rethink, retool, and revitalize your marketing strategies to take full advantage of the opportunities created by the microcontent explosion. A pioneer in the world of microcontent marketing, Greg Verdino helps you create a strategy that emphasizes relationships over reach, interaction over interruption, and social networking over broadcast networks.
You'll find the answers to today's toughest questions:
How do I earn the attention of the right influencers and my core customers?
How do I really build my brand one blog post, one video clip, or even one tweet at a time?
How do I achieve massive scale when mainstream media is losing ground to consumer content creators and peer-to- peer distribution?
How do I strike a balance between tapping into today's biggest marketing trends without losing sight of the little things that matter?
When one door closes, another opens. Mass marketing is no longer a viable marketing strategy and, likely, never will be again. Micromarketing, though, enables you to resonate with consumers in compelling new ways and achieve the big results that no longer seem possible with traditional approaches.
It's time to start building your brand, finding new customers, establishing relationships, and getting real results on this exciting new frontier. microMARKETING will show you the way.
About the Author
Greg Verdino is vice president of strategy and solutions at Powered, Inc., a full-service social media agency. He has 20 years of experience in marketing and related fields and has advised such clients as American Airlines, American Express, Coca-Cola, Ford, and Panasonic. Verdino has been profiled in and quoted by many business and news media, including Advertising Age, Adweek, Forbes, The New York Times, and The Wall Street Journal. He lives in Huntington, NY.