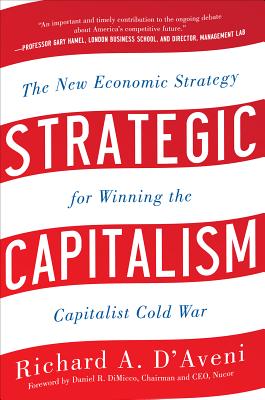 Strategic Capitalism
The New Economic Strategy for Winning the Capitalist Cold War: The New Economic Strategy for Winning the Capitalist Cold War
Hardcover

* Individual store prices may vary.
Description
Praise for Strategic Capitalism
"Richard D'Aveni understands that managing competition between the United States and China--and their quite different forms of capitalism--will occupy leaders on both sides of the Pacific for decades to come and will shape the first half of the 21st century more than any other factor. This book is a welcome addition to a vitally important debate."
--Ian Bremmer, president of Eurasia Group and author of Every Nation for Itself
"Understanding the pluses and minuses of modern 'capitalism, ' in more than a sloganeering way, is the great challenge for corporations and for government from North America to Europe to East Asia. Strategic Capitalism is a valuable contribution to clear thinking about this imperative."
--James Fallows, The Atlantic, and author of China Airborne
"Professor D'Aveni is a business provocateur extraordinaire. He tells you the straight scoop and will never cave to conventional wisdom unless there is proof that it is right. Strategic Capitalism is another example of D'Aveni's ability to synthesize a complex topic down to its key elements."
--Bill Achtmeyer, Founder, Chairman, and Managing Partner of The Parthenon Group
The Capitalist Cold War Has Begun
The United States and its economic allies are under attack by a force unlike any they have ever faced. China and other emerging nations are competing for markets around the world using their own versions of capitalism--and, thus far, they are winning handily.
In Strategic Capitalism, one of the world's leading authorities on global business strategy, Richard D'Aveni, describes how the "economic cold war" began, how it is being played out now, and how the West can change the course of events in its favor.
Brilliantly conceived--and sure to ignite passions on both sides of the political aisle-- Strategic Capitalism calls for an end to the economic idealism that dominates the national dialog. It also calls for a cold, hard focus on reality, which is this: government-managed capitalist systems consistently outmaneuver and outperform the traditional laissez-faire capitalism of the West.
With refreshing levels of thoroughness, knowledge, and detachment, D'Aveni describes the competitive landscape today. These are the facts:
The world's best competitors--with China in the lead--have adopted elements of managed capitalism, in which government and businesses work together toward a single aim.
China's objective is clear--to displace the United States as the world's economic leader by becoming the global rule maker.
If the West does not act soon, it stands to lose everything it holds most dear: financial prosperity, economic freedom, geopolitical power, national security, and even democratic values.
This is disruptive innovation on a global scale. But instead of companies using breakthrough products and brands to gain market share, nations are devising "game-changing" economic systems to seize influence over--and beyond--the global economy.
Bleak as the situation may be, D'Aveni contends that the West can reverse the trends currently tilting the global balance of power.
In order to meet the challenges of the future, America must revisit long-held assumptions about economics and economies, seriously consider radical alternative policies, and embrace the concept of Strategic Capitalism.
McGraw-Hill Companies, 9780071781169, 336pp.
Publication Date: August 24, 2012
or
Not Currently Available for Direct Purchase