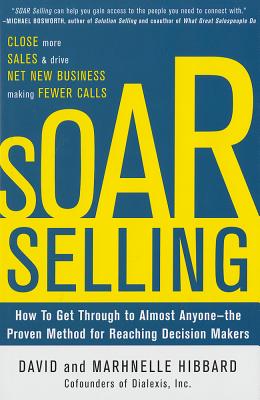 Soar Selling
How to Get Through to Almost Anyone - The Proven Method for Reaching Decision Makers
Hardcover

* Individual store prices may vary.
Description
A BREAKTHROUGH FORMULA FOR REACHING TOP DECISION MAKERS AND INFLUENCERS
"SOAR Selling is a mission-critical tool for building lasting, profitable relationships. David and Marhnelle go far beyond defining a sales process by rolling up their sleeves to share their secret about what you absolutely must do to get in anywhere." -- Marcus Buckingham, New York Times bestselling author, researcher, motivational speaker, and business consultant
"SOAR Selling is essential for any professional organization committed to sales excellence that delivers a superior customer experience." -- Mel Parker, Vice President and General Manager North America, Dell Consumer
"SOAR's integrity and efficacy not only help overcome cold-call-phobia; SOAR turns anyone who's motivated to sell into a cold-call-master. SOAR's proven and effective way 'to get through' has achieved unmatched results for Vistage Chairs who are determined to reach and convert CEOs and other executives to Vistage membership. SOAR tips and tools have really propelled our business to SOAR." -- Rafael Pastor, Chairman of the Board and CEO, Vistage International
"SOAR Selling teaches salespeople a measurable calling strategy and process that can dramatically improve their ability to reduce their call volume and increase the number of appointments." -- Gerhard Gschwandtner, Publisher, Selling Power
"When it comes to driving net new business, SOAR has been at the forefront of the Berlin Company strategy because it works " -- Andrew T. Berlin, Chairman and CEO, Berlin Packaging, and Limited Partner, Chicago White Sox
From the cofounders of the international sales training company, Dialexis, Inc. comes the groundbreaking method for the biggest challenges of every salesperson: getting through to almost anyone, and reaching top decision makers and high influencers.
It's time to stop wasting valuable time using the by-the-numbers-plus-luck method--a grueling process that causes attrition and unethical dialing. SOAR Selling presents a solution to this critical problem by revealing by a proven way for any salesperson to make fewer calls, reach more decision makers, and, most important, get more appointments.
The authors have tested the SOAR (Surge of Accelerating Revenue) Selling formula on thousands of live sales calls throughout key global markets. The results are staggering. According to the authors' client research, SOAR is astonishingly effective.
SOAR provides a combination contact rate with decision makers and influencers of up to 90% on every net dial to a new prospect.
Organizations have experienced 200% to 2000% ROI in just 12 weeks from program completion.
The mindset component utilized during SOAR enables the individual to be open to a new way of driving net new business.
The coaching segment ensures the program consistently demonstrates revenue surge and ROI.
SOAR Selling is the best practice for reaching decision makers. Its secret is simple; its approach is based in the mechanics and psychology of call execution with a foundation of a powerful mindset shift. The authors' research reveals that with SOAR, a salesperson can make 12 net dials and reach a combination of 10 top-level decision makers and influencers
McGraw-Hill Education, 9780071793711, 215pp.
Publication Date: December 18, 2012
About the Author
MARHNELLE and DAVID HIBBARD are cofounders of Dialexis. Prior to this, David spent 18 years in the commercial real estate industry. Marhnelle began her professional career as one of the few women in commercial real estate brokerage and commercial real estate development. Their clients include Cisco, Los Angeles Angels of Anaheim, Xerox, IBM, AT&T, Berlin Packaging, Oracle Dell, Vistage, and many more.