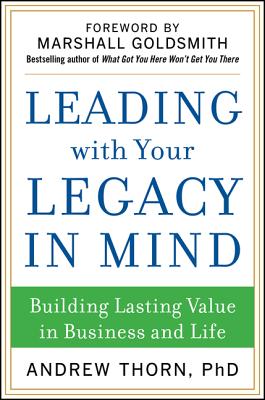 Leading with Your Legacy in Mind (Hardcover)
Building Lasting Value in Business and Life
McGraw-Hill Education, 9780071829847, 256pp.
Publication Date: March 17, 2014
* Individual store prices may vary.
Description
This is an indispensable guide for leaders who want to leave a lasting legacy on their organization by leaving a positive culture that benefits all.
Leading business coach Dr. Andrew Thorn's work unfolds an entirely new perspective on legacy and invites the reader to shift his or her thinking from goals to aspirations, from balance to focus, from results to commitments, from achieving to becoming, and from outcomes to actions. Including the instructive and inspiring stories of leaders working on legacy issues while improving their organizations, this book contains transformative action steps and prescriptive exercises that will improve your company and your life.
Practical, strategic, and full of invaluable wisdom, Leading with Your Legacy in Mind can be the beginning of your path to harmonizing your professional life and your personal life. It's about focusing on the right things in both aspects of your life--the only true way to live and lead with purpose and create a legacy to be proud of. Learn how to create the most meaning in both your personal and professional domains by reframing:
Passion into purpose
Change into growth
Goals into aspirations
Balance into focus
Listening into hearing
Ambition into meaning
You're a natural leader. Leading is about making positive change in lives and organizations. You already take it seriously; taking it personally is the next step.
The key to lasting leadership--and a life well lived--is simpler than you think.
PRAISE FOR LEADING WITH YOUR LEGACY IN MIND
"Andrew Thorn is a friend and my personal coach . . . He has helped me keep what really matters in my life in focus. He] has helped me have a better life, both at work and at home. He can do the same for you." -- From the Foreword by Marshall Goldsmith, New York Times bestselling author of What Got You Here Won't Get You There
"Andrew Thorn brings inspiring insights and deep truths to examine the single most important life question: finding your life purpose. This book is a must-read for anyone who wants to discover why meaning truly matters." -- Richard Leider, bestselling author of Repacking Your Bags and The Power of Purpose
"I am fascinated by this book. Leading with Your Legacy in Mind contains many deep lessons, but what particularly stood out for me were the suggestions that a leader should consider focusing on being a servant leader--in other words, being a blessing to others." -- Ivor D. Solomon, Vice President, Global Total Rewards, Levi Strauss & Co.
"For most of us, busy with work, family, and life in general, we are filling our days with just being and doing. This book reminds us that we should always be thinking about the future and what our impact will be--that will guide us and ultimately allow us to achieve our lasting legacy." -- Lisa Toth, CFO, InterDealer Trading Solutions
"As a woman in an executive role, I found this book to be an enlightening and rewarding read. I can carry its lessons and questions into all areas of my life." -- Farrell Gertmenian-Foley, Executive Director & Vice President, Texas Jacobson Aviation
"Leading with Your Legacy in Mind will be instrumental in helping me to influence and encourage those around me to cultivate their own legacy." -- Bradford T. Harris, Vice President, Southwest Gas Corporation
About the Author
Andrew Thorn is a business coach, consultant, and psychologist. He is a pioneer in the field of work/life focus who provides behavioral-based leadership strategies to business leaders of all levels. Thorn personally guided two of the top 50 business thinkers currently listed on the Thinkers50 and has coached more than 250 senior leaders from several Fortune 500 companies.