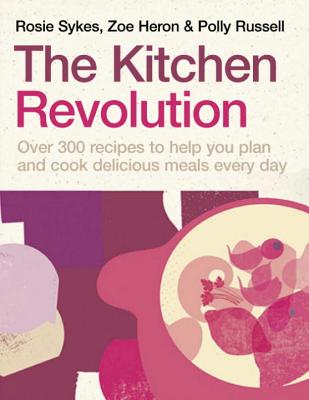 The Kitchen Revolution: Change the Way You Cook and Eat Forever - And Save Time, Effort, Money and Food (Hardcover)
Change the Way You Cook and Eat Forever - And Save Time, Effort, Money and Food
Ebury Press, 9780091913731, 576pp.
Publication Date: March 1, 2008
* Individual store prices may vary.
or
Not Currently Available for Direct Purchase
Description
We're always being told how to decorate, what to wear, and how to raise our children, but no one has come up with an answer for the most important how-to: basic household cooking. And faced with a mountain of cookbooks and magazines, where does onestart? "Good Food Every Day" is the lifesaver cookbook we've all been waiting for. Home cooking using fresh, seasonal produce is better for your health and your purse than ready-meals, and working mothers Polly Russell and Zoe Heron and food writer Rosie Sykes and have come up a recipe for every single day of the year. Week by week they give you comprehensive shopping lists of ingredients, foolproof recipes for every kind of occasion, and healthy, economical, and simple meals that will change the way you cook and eat. By making the most of your fridge, freezer, and store cupboard you can produce meals like beef fillet stuffed with spinach and walnuts, teriyaki mackerel with noodles, and pasta with tapenade and goat's cheese in the blink of an eye. All that's required is sensible shopping and a little preparation, and then no worries With 365 cunning recipes that show you how to make seasonal family suppers, impressive dinner-party dishes, feasts from the larder, and thrifty dishes from leftovers, this cookbook will truly revolutionize your life.
About the Author
Rosie Sykes has cooked in the kitchens of some of the UK's most celebrated chefs and ran her own gastropub. She also wrote for the Guardian's Weekend magazine as the Kitchen Doctor. Polly Russell has cooked in restaurants around the world, worked as a product developer for Marks & Spencer and is continuing her PhD research on food and the politics of identity. Zoe Heron is a senior director and producer for the BBC. Zoe has tested and helped to develop the recipes for "The Kitchen Revolution," which has changed her culinary life.
Advertisement