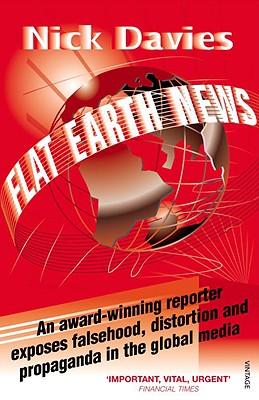 Flat Earth News
An Award-Winning Reporter Exposes Falsehood, Distortion and Propaganda in the Global Media
Paperback

* Individual store prices may vary.
Description
After years of working as a respected journalist, Nick Davies broke the unwritten rule of the media by investigating the practices of his fellow colleagues. In this eye-opening exposé, Davies uncovers an industry awash in corruption and bias. His findings include the story of a prestigious Sunday newspaper that allowed the CIA to plant fiction in its columns; the newsroom that routinely rejects stories about black people; the respected paper that hired a professional fraudster to set up a front company to entrap senior political figures; as well as a number of newspapers that pay cash bribes to bent detectives. His research also exposes a range of national stories that were in fact pseudo events manufactured by the public relations industry and global news stories that were fiction generated by a machinery of international propaganda. The degree to which the media industry has affected government policy and perverted popular belief is also addressed. Gripping and though-provoking, this is an insider's look at one of the world's most tainted professions.
Praise For Flat Earth News: An Award-Winning Reporter Exposes Falsehood, Distortion and Propaganda in the Global Media…
"This brilliant book by Nick Davies, unrelenting in its research, ruthless in its honesty, is a landmark exposé by a courageous insider."
— John Pilger
Vintage UK, 9780099512684, 320pp.
Publication Date: May 1, 2009
About the Author
Nick Davies writes for the Guardian, and has been named Journalist of the Year, Reporter of the Year, and Feature Writer of the Year. He is the author of Dark Heart, The School Report, and White Lies.