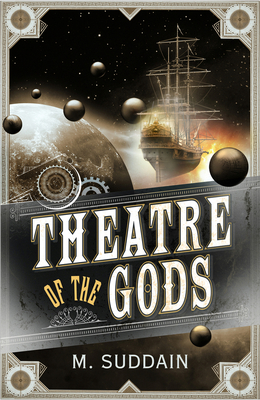 Theatre of the Gods (Paperback)
Random House UK, 9780099575641, 640pp.
Publication Date: September 15, 2015
* Individual store prices may vary.
Description
Steampunk space opera? Damn right.

This is the story of M. Francisco Fabrigas, explorer, philosopher, and heretical physicist, who took a shipful of children on a frightening voyage to the next dimension, assisted by a teenaged Captain, a brave deaf boy, a cunning blind girl, and a sultry botanist, all the while pursued by the Pope of the universe and a well-dressed mesmerist. Dark plots, demonic cults, murderous jungles, quantum mayhem, the birth of creation, the death of time, and a creature called the Sweety: all this and more waits beyond the veil of reality. Tolkien and Verne meet Douglas Adams and Pratchett, care of Gulliver's Travels.
About the Author
Author, journalist, dramatist, publisher, minimalist composer, digital socialite, liar, MATT SUDDAIN is Founding Editor of Blacklist Publishing Co. Ltd., a small firm dedicated to the preservation of lost or forbidden works of art and literature, most notably the once-famous travelogue series 'Worlds' Fair'.
Praise For Theatre of the Gods…
"Like nothing else I have ever read. . . . .A mad bastard of a book, set to the tune of a raving loon. It's a steampunk space opera like no other. An antidote to the repetition common in contemporary science fiction which makes an unforgettable first impression, and the feeling that you're reading—nay experiencing—something singular persists until the vast narrative's last flabbergasting gasp."  —Tor.com
"Wholly original, and by turns annoying and exhilarating, this antidote to formula fiction reads like Douglas Adams channeling William Burroughs channelling Ionesco, spiced with the comic brio of Vonnegut."  —Guardian
"A crazily multilayered odyssey through space, time and the universe next door…it's definitely not dull. No book in which the Pope addresses his enemies as 'Bumface' runs that risk."  —Metro
"...brash, sly, and very enjoyable...This is a remarkable, cheerfully sustained performance."--Publishers Weekly, 10/26/2015, starred review.