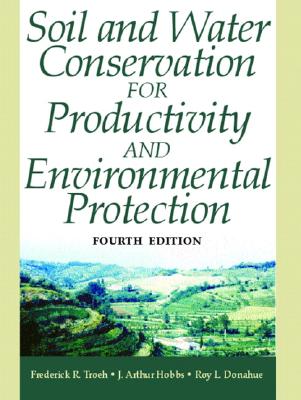 Soil and Water Conservation for Productivity and Environmental Protection
Paperback

* Individual store prices may vary.
Description
Written from an "agronomic" rather than an engineering perspective, this introduction to soil and water conservation explores a full range of topics and environmental issues, including some ignored or overlooked in other books on the subject. Comprehensive, up-to-date, and "accessible," it considers the hazards posed by erosion, sedimentation, and pollution, and describes the techniques needed to conserve soil and maintain environmental quality. Situations and examples are drawn from many places to represent a cross-section of the soils, climates and cultures of the world, as well as the full scope of agricultural, engineering, mining, and other uses of the land. The volume covers conserving soil and water, soil erosion and civilization, geologic erosion and sedimentation, water erosion and sedimentation, wind erosion and deposition, predicting soil loss, soil surveys as a basis for land use planning, cropping systems, tillage practices for conservation, conservation structures, vegetating drastically disturbed areas, pastureland, rangeland, and forestland management, water conservation, soil drainage, irrigation and reclamation, soil pollution, water quality and pollution, economics of soil and water conservation, soil and water conservation agencies in the United States, and soil and water conservation around the world. For professionals that deal with soil and water conservation.
Prentice Hall, 9780130968074, 656pp.
Publication Date: May 17, 2003
or
Not Currently Available for Direct Purchase