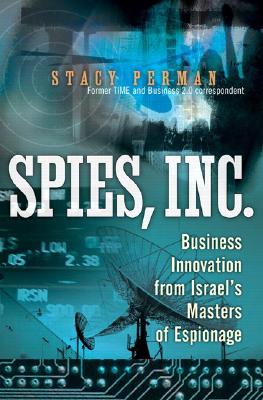 Spies, Inc. (Hardcover)
Business Innovation from Israel's Masters of Espionage
Prentice Hall, 9780131420236, 241pp.
Publication Date: September 1, 2004
Other Editions of This Title:
Paperback (9/24/2004)
* Individual store prices may vary.
Description
When you're outgunned, when you're outnumbered 100 to 1, you have two choices: innovate and improvise. Or die.
Spies, Inc. is a lesson in entrepreneurship on the fly: succeeding when resources are scarce and failure is not an option.
"Stacy Perman tells a mystery never told before--the story of the marriage of technological innovation and spycraft. It is this marriage that has made Israeli intelligence so distinctively unique, and it is written like a real thriller."
--AVNER COHEN, AUTHOR OF ISRAEL AND THE BOMB
"Stacy Perman has done some first-rate research, uncovering and explaining the significant nexus between Israel's military intelligence efforts and the high-tech innovation that has become a hallmark of the Israeli economy. There are valuable business lessons to be learned throughout these pages for organizations--be they companies or countries--hoping to build a high-tech base for their economies. Above all, there is superb drama in Spies, Inc. and plenty of insight into the inner workings of an engine for innovation."
--ROBERT SLATER, AUTHOR OF MICROSOFT REBOOTED: HOW BILL GATES AND STEVE BALLMER REINVENTED THEIR COMPANY AND JACK WELCH & THE G.E. WAY: MANAGEMENT INSIGHTS AND LEADERSHIP SECRETS OF THE LEGENDARY CEO
"Spies, Inc. is both a compelling tale of high-tech espionage and an insightful business manual for the twenty-first century. As Stacy Perman chronicles the derring-do of a band of Israeli intelligence operatives, she shows how the country's fight for survival has forced it to think and act with brash creativity--both on and off the battlefield."
--JOSHUA HAMMER, JERUSALEM BUREAU CHIEF, NEWSWEEK, AND AUTHOR OF A SEASON IN BETHLEHEM: UNHOLY WAR IN ASACRED PLACE
In Spies, Inc. former Time and Business 2.0 writer Stacy Perman reveals the spellbinding story of the Israeli military and 8200, the ultra-secret high-tech intelligence unit whose alumni helped create a number of the groundbreaking technologies behind today's information revolution. An incredible tale in its own right, 8200 is also a remarkable case study in innovation, offering compelling lessons for every business.
Likened to the NSA in the U.S., 8200 was established to capture, decipher, and analyze enemy transmissions. But unlike the NSA, 8200 did not have an endless font of resources at its disposal...and, due to secrecy, it couldn't generally buy "off-the-shelf" as a matter of procedure. Instead, it invented and customized many of its own technologies around the unique challenges of a nation that exists on a constant war-footing.
Along the way, its soldiers learned to come up with breakthroughs under crushing pressure and challenges. They brought this same sense of purpose under fire and creative improvisation in creating complex systems to the civilian world where they created top-line technology companies in a number of areas, including wireless communications and security.
Whispers of these secret Israeli electronic warriors swept venture capital circles in the 1990s, as a stunning number of Israeli tech startups bore fruit...many founded by 8200 veterans. Now, Stacy Perman tells this incredible story...revealing the techniques of entrepreneurship on the fly, when failure is not an option.
Read it as a spy story. Read it as a history story. Read it as a business story. However you read it, you won't be able to put it down. An ingathering of geniusesOrganizing to win based on cunning and intellect--not pure force Connecting the dots: details, knowledge, and imagination The role of brilliant intelligence: from counterespionage to entrepreneurship Pure innovation, relentless improvisation Doing the impossible--on a shoestring budget "Are you from the unit?" How venture capitalists discovered one of the world's top sources of innovation Competing for the best Practical lessons on finding, nurturing, and keeping talent
(c) Copyright Pearson Education. All rights reserved.

or
Not Currently Available for Direct Purchase