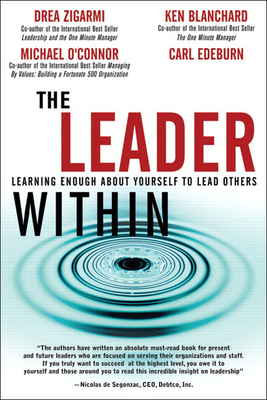 The Leader Within
Learning Enough about Yourself to Lead Others
Hardcover

* Individual store prices may vary.
Description
The first step towards becoming an outstanding leader: know yourself. Thisbook will help you understand yourself as a leader... so you can change, grow, and become powerfully more effective. Authored by four world-renownedleadership experts, including the legendary Ken Blanchard, it draws on anextraordinary seven-year research study on how successful corporate executivesexert influence. The authors begin by presenting self-change as your musturgent leadership challenge, and showing how your values and personalitygovern your actions, even when you don't realize it. You'll examine the innerself you're currently bringing to your "moments of influence," discovering howyour disposition, values, beliefs, and persona are contributing right now to yoursuccess -- or failure. Throughout, the authors present proven, values-basedapproaches to leadership in both group settings and one-to-one contexts. TheLeader Inside will help you connect to facets of yourself you've neverdiscovered, and liberate personal energy you never knew you had. And it willhelp you rekindle your team's spirit, so you can work together to build stronger, more effective, more joyful organizations.
Pearson Prentice Hall, 9780131470255, 288pp.
Publication Date: September 5, 2004
About the Author
About the Authors DR. DREA ZIGARMI is a respected management consultant, bestselling author, and powerful trainer and motivational speaker. He co-authored Leadership and The One Minute Manager, and has co-developed several Blanchard Training and Development products, including its Leader Behavior Analysis instruments. Few people have impacted the day-to-day management of people and companies more than KEN BLANCHARD. His phenomenal best-seller, The One Minute Manager (co-authored with Spencer Johnson), has sold 9,000,000+ copies and been translated into 25 languages. He leads the Ken Blanchard Companies(R), a global leader in workplace learning, productivity, leadership, and team effectiveness. MICHAEL O'CONNOR co-founded and directs the Center for Managing by Values. He specializes in strategy, behavior, and process-driven performance. With Ken Blanchard, he co-authored Managing by Values. DR. CARL EDEBURN has spent 25 years consulting on key management and leadership issues. A certified trainer for the Ken Blanchard Companies, he has co-developed several Blanchard instruments. (c) Copyright Pearson Education. All rights reserved.
or
Not Currently Available for Direct Purchase