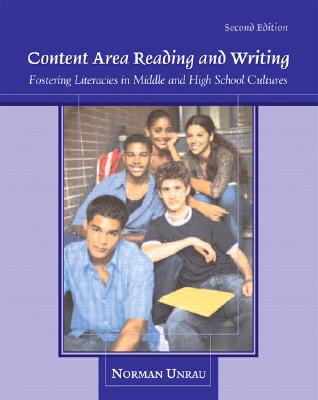 Content Area Reading and Writing (Paperback)
Fostering Literacies in Middle and High School Cultures
Pearson, 9780132298544, 453pp.
Publication Date: July 1, 2007
* Individual store prices may vary.
Description
Through this strategy-driven, theory-based text, content-area teachers gain a thorough understanding of the fundamental role that reading and writing play in content-area learning. Unique to this text is the attention paid to helping teachers understand how the high school cultures students belong to affect their view of literacy and learning. The author effectively guides readers to ways they can identify and address school cultures and make literacy in content learning, relevant to students. The author offers step-by-step approaches to gauge student literacy, build vocabulary, and implement instruction that improves comprehension, encourages critical reading, supports writing for learning, and facilitates collaboration for literacy development.
About the Author
Norman Unrau is a Professor at California State University, Los Angeles, in the Division of Curriculum and Instruction, where he teaches a course to beginning teachers that addresses literacy and learning in content classrooms. He also serves as Coordinator of the MA in Education with a focus on middle and high school curriculum and instruction and facilitates MA candidates' pursuit of certification by the National Board for Professional Teaching Standards. He served as editor of the Journal of Adolescent and Adult Literacy, a publication of the International Reading Association for educators interested in the development of students' reading and writing. For several years he served as a University Coach to develop literacy and learning in a large urban middle school in the Los Angeles Unified School District.
or
Not Currently Available for Direct Purchase