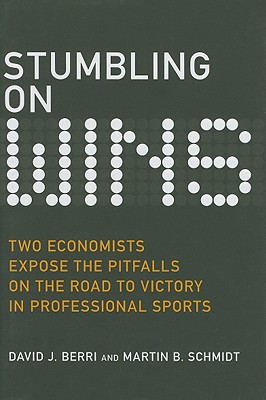 Stumbling on Wins
Two Economists Expose the Pitfalls on the Road to Victory in Professional Sports
Hardcover

* Individual store prices may vary.
Description
The next quantum leap beyond "Moneyball," this book offers powerful new insights into all human decision-making, because if sports teams are getting it wrong this badly, how do you know you're not? Sometimes the decisions that teams make are simply inexplicable. Consider: sports teams have an immense amount of detailed, quantifiable information to draw upon, more than in virtually any other industry. They have powerful incentives for making good decisions. Everyone sees the results of their choices, and the consequences for failure are severe. And yet... they keep making the same mistakes over and over again... systematic mistakes you'd think they'd learn how to avoid. Now, two leading sports economists reveal those mistakes in basketball, baseball, football, and hockey, and explain why sports decision-makers never seem to learn their lessons. You'll learn which statistics are connected to wins, and which aren't, and which statistics can and can't predict the future. Along the way, David Berri and Martin Schmidt show why a quarterback's place in the draft tells you nothing about how he'll perform in the NFL... why basketball decision-makers don't focus on the factors that really correlate with NBA success... why famous coaches don't deliver better results... and much more.
FT Press, 9780132357784, 237pp.
Publication Date: March 16, 2010
About the Author
David J. Berri is associate professor of economics at Southern Utah University. He has written extensively on sports economics for academic journals, newspapers, and magazines, including "The New York Times." Martin B. Schmidt, professor of economics at the College of William and Mary, specializes in sports economics and macroeconomics. His writing has appeared in the field's leading academic and general interest journals, including "The New York Times." Berri and Schmidt coauthored "The Wages of Wins" and maintain a popular blog, The Wages of Wins Journal, which discusses the economics of sports decision-making (dberri.wordpress.com).
or
Not Currently Available for Direct Purchase