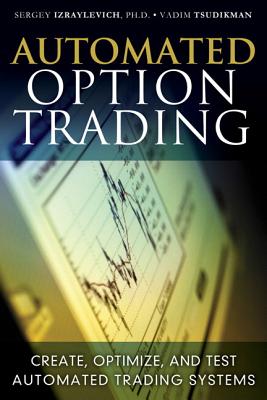 Automated Option Trading (Hardcover)
Create, Optimize, and Test Automated Trading Systems
FT Press, 9780132478663, 279pp.
Publication Date: April 2, 2012
* Individual store prices may vary.
Description
The first and only book of its kind, Automated Options Trading describes a comprehensive, step-by-step process for creating automated options trading systems. Using the authors' techniques, sophisticated traders can create powerful frameworks for the consistent, disciplined realization of well-defined, formalized, and carefully-tested trading strategies based on their specific requirements. Unlike other books on automated trading, this book focuses specifically on the unique requirements of options, reflecting philosophy, logic, quantitative tools, and valuation procedures that are completely different from those used in conventional automated trading algorithms. Every facet of the authors' approach is optimized for options, including strategy development and optimization; capital allocation; risk management; performance measurement; back-testing and walk-forward analysis; and trade execution. The authors' system reflects a continuous process of valuation, structuring and long-term management of investment portfolios (not just individual instruments), introducing systematic approaches for handling portfolios containing option combinations related to different underlying assets. With these techniques, it is finally possible to effectively automate options trading at the portfolio level. This book will be an indispensable resource for serious options traders working individually, in hedge funds, or in other institutions.
About the Author
Sergey Izraylevich, Ph.D., Chairman of the Board of High Technology Invest Inc., has traded options for well over a decade and currently creates automated systems for algorithmic option trading. A Futures magazine columnist, he has authored numerous articles for highly rated, peer-reviewed scientific journals. He began his career as a lecturer at The Hebrew University of Jerusalem and Tel-Hay Academic College, receiving numerous awards for academic excellence, including Golda Meir's Prize and the Max Shlomiok honor award of distinction. Vadim Tsudikman, President of High Technology Invest Inc., is a financial consultant and investment advisor specializing in derivatives valuation, hedging, and capital allocation in extreme market environments. With more than 15 years of option trading experience, he develops complex trading systems based on multicriteria analysis and genetic optimization algorithms. Izraylevich and Tsudikman coauthored Systematic Options Trading (FT Press) and regularly coauthor Futures magazine articles on cutting-edge issues related to option pricing, volatility, and risk management.
or
Not Currently Available for Direct Purchase