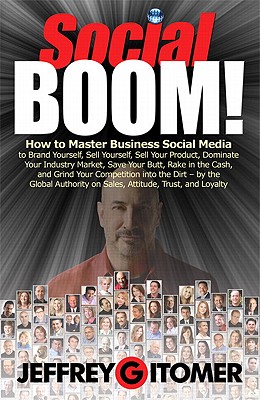 Social Boom!: How to Master Business Social Media to Brand Yourself, Sell Yourself, Sell Your Product, Dominate Your Industry Market (Hardcover)
How to Master Business Social Media to Brand Yourself, Sell Yourself, Sell Your Product, Dominate Your Industry Market
FT Press, 9780132686051, 192pp.
Publication Date: March 19, 2011
* Individual store prices may vary.
or
Not Currently Available for Direct Purchase
Description
"Social BOOM " addresses every aspect of social media, including the business periphery (blog, personal website, e-zine) that you need in order to create the real law of attraction. When you create a connection, it's an indicator that that prospect, or that customer, or that individual wants to continue the online relationship, which may lead to real business. Graduate from social media to business social media by creating value that others will perceive as important to fulfilling their needs. As you go through each aspect of this foundation-building, platform-building book, you will learn about the business social media tactics that author Jeffrey Gitomer and other experts are using right now. None of the ideas are random. All of them are fully tested and can be implemented by you, too. None of the ideas contain solicitation (buy my product, make a lot of money). All of them get you and your brand out there in a systematic way that will bring in dollars. Best of all, the strategies are presented in a way that will allow you to put them into practice immediately.
About the Author
AUTHOR. Jeffrey is the author of The New York Times best sellersThe Sales Bible, The Little Red Book of Selling, The Little BlackBook of Connections, and The Little Gold Book of YES! Attitude.All of his books have been number one best sellers on Amazon.com. Jeffrey's books have sold millions of copies worldwide. IN FRONT OF MILLIONS OF READERS EVERY WEEK. Jeffrey'ssyndicated column Sales Moves appears in scores of businessjournals and newspapers in the United States and Europe, andis read by more than four million people every week. SALES CAFFEINE. Jeffrey's weekly e-zine, Sales Caffeine, isa sales wake-up call delivered every Tuesday morning tomore than 500,000 subscribers worldwide, free of charge.Sales Caffeine allows Jeffrey to communicate valuable salesinformation, strategies, and answers to sales professionalson a timely basis. To sign up, or for more information, visithttp: //www.salescaffeine.com. MORE THAN 100 PRESENTATIONS A YEAR. Jeffrey gives publicand corporate seminars, runs annual sales meetings, andconducts live and Internet training programs on selling, customer loyalty, and personal development. SALES ASSESSMENT ONLINE. The world's first customizedsales assessment, renamed a "successment," will judge yourselling skill level in 12 critical areas of sales knowledgeand give you a diagnostic report that includes 50 mini saleslessons. This amazing tool will help you rate your salesabilities and explain your opportunities for sales growth.This program is aptly named KnowSuccess because you can'tknow success until you know yourself. SPEAKER HALL OF FAME. In 2008, Jeffrey was elected by hispeers to the National Speaker Association's Speaker Hall ofFame. The designation, CPAE (Counsel of Peers Award forExcellence), honors professional speakers who have reachedthe top echelon of performance excellence. ON THE INTERNET. Jeffrey's WOW! websites get more than100,000 hits per week from readers and seminar attendees.His state-of-the-art presence on the web and e-commerceability has set the standard among peers, and has won hugepraise and acceptance from customers. TRAINONE ONLINE SALES TRAINING. Award-winning online salestraining lessons are available at http: //www.trainone.com. Thecontent is pure Jeffrey -- fun, pragmatic, real world -- and can beimmediately implemented. TrainOne's innovation is leading theway in the field of customized e-learning. AWARD FOR PRESENTATION EXCELLENCE. In 1997, Jeffrey wasawarded the designation of Certified Speaking Professional(CSP) by the National Speakers Association. The CSP awardhas been given fewer than 500 times in the past 25 years andis the association's highest earned award. ACE OF SALES. The first program that actually helps you makesales! Wanna make more sales, close more deals, AND buildloyal relationships? Ace of Sales is the golden ticket of sellingand gives you and your people the tools and training toattract, engage, differentiate, thank, stay in touch, and WOWcustomers. To sign up, visit http: //www.aceofsales.com. SALESBLOG.COM. Understanding the importance oftransferring information that's both timely and useful, Jeffrey'sSales Blog adds the ultimate multimedia transfer to Jeffrey'soutreach. Log on, subscribe, and stay up to the nanosecondwith information to build your sales and success. RESILIENT LEADER TRAINING. Buy Gitomer and TrainOne havepartnered with The Center for Leadership Studies and arenow offering a course in Resilient Leadership. This dynamicprogram will test your strengths, expose your vulnerabilities, and reinforce your resilience as a leader and as a person. Formore information, call 704/333-1112. BIG CORPORATE CUSTOMERS. Jeffrey's customers includeCoca-Cola, GE, Oracle, US Foodservice, Caterpillar, BMW, Verizon Wireless, CHUBB, MacGregor Golf, FergusonEnterprises, Kimpton Hotels, Hilton, Enterprise Rent-A-Car, AmeriPride, NCR, Thomson Reuters, Comcast Cable, RaymondJames, Liberty Mutual Insurance, Principal Financial Group, Wells Fargo Bank, Monsanto, BlueCross BlueShield, Carlsberg, Wausau Insurance, Northwestern Mutual, MetLife, SportsAuthority, GlaxoSmithKline, AC Neilsen, IBM, The New YorkPost, and hundreds of others.
Advertisement