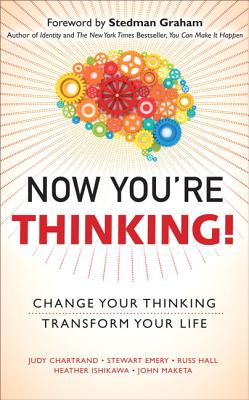 Now You're Thinking!: Change Your Thinking...Revolutionize Your Career...Transform Your Life (Hardcover)
Change Your Thinking...Revolutionize Your Career...Transform Your Life
FT Press, 9780132690133, 153pp.
Publication Date: August 7, 2011
* Individual store prices may vary.
or
Not Currently Available for Direct Purchase
Description
"Now You're Thinking" will help readers build a great life by teaching them breakthrough techniques for thinking far more effectively. Whether a reader is considering refinancing his house or trying to become a better parent, some thinking processes are simply proven to work better.
About the Author
Judy Chartrand is a recognized thought leader in the areas of critical thinking and career development. Chartrand works as a consulting Chief Scientist with Pearson. As a psychologist, Chartrand has helped hundreds of clients increase their personal and career satisfaction. She frequently speaks at national and international conferences and has published more than 50 articles and books. Chartrand lives in Minnesota with her husband and has two grown children. Stewart Emery is coauthor of the international bestsellers "Success Built to Last "and "Do You Matter?: How Great Design Will Make People Love Your Company." He has a lifetime of experience as an entrepreneur, creative director, corporate culture consultant, and executive coach. He has led workshops and seminars and delivered keynotes all over the world. Russ Hall is author of fourteen books and coauthor of numerous other books. He has also had short stories, essays, and articles published in a wide array of media and has received several awards. Heather Ishikawa is the National Sales Director for Pearson TalentLens. Ishikawa has extensive experience in architecting corporatewide, assessment-based leadership development initiatives. Ishikawa has delivered workshops to hundreds of leaders on the topics of critical thinking, leadership, teambuilding, communication, and change management. She lives in California with her husband and two children. John Maketa is the Director of Strategic Partnerships for Pearson TalentLens. Maketa is a dynamic leader in enterprise growth, developing bold and creative strategic alliances that catapult global performance and profit. Maketa is known throughout the learning and development industry as a major connector who is able to strategically align initiatives for parties on both sides of the table with unparalleled financial and professional success. He lives in Pennsylvania with his wife and son.
Advertisement