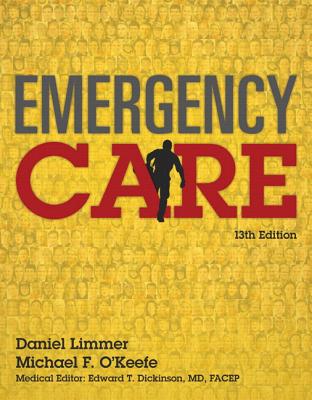 Emergency Care Plus Mybradylab with Pearson Etext -- Access Card Package
Hardcover

* Individual store prices may vary.
Other Editions of This Title:
Paperback (1/1/2003)
Description
For over 30 years, Emergency Care has provided generations of EMT students with the practical information they need to succeed in the classroom and in the field. Updated with the latest research and developments in emergency medical services, this edition meets the 2010 American Heart Association guidelines for CPR and ECC. Using the National EMS Education Standards as a foundation, Emergency Care goes beyond the Standards to provide the most current, accurate reflection of EMS practice today. The text integrates scientific principles in an easy-to-understand way, with a host of critical-thinking features that help readers learn to think like EMTs. KEY TOPICS: Introduction to Emergency Medical Services and the Health Care System; The Well-being of the EMT; Lifting and Moving Patients; Medical, Legal, and Ethical Issues; Medical Terminology; Anatomy and Physiology; Principles of Pathophysiology; Life Span Development; Airway Management; Respiration and Artificial Ventilation; Scene Size-up; The Primary Assessment; Vital Signs and Monitoring Devices; Secondary Assessment; Communication and Documentation; General Pharmacology; Respiratory Emergencies; Cardiac Emergencies; Diabetic Emergencies and Altered Mental Status; Allergic Reaction; Poisoning and Overdose Emergencies; Abdominal Emergencies; Behavioral and Psychiatric Emergencies and Suicide; Hematologic and Renal Emergencies; Bleeding and Shock; Soft-Tissue Trauma; Chest and Abdominal Trauma; Musculoskeletal Trauma; Trauma to the Head, Neck, and Spine; Multisystem Trauma; Environmental Emergencies; Obstetric and Gynecologic Emergencies; Pediatric Emergencies; Geriatric Emergencies; Emergencies for Patients with Special Challenges; EMS Operations; Hazardous Materials, Multiple-Casualty Incidents, and Incident Management; Highway Safety and Vehicle Extrication; EMS Response to Terrorism. MARKET: This title is intended for use in Emergency Medical Technician Training and Emergency Medical Services courses.
0134190750/9780134190754 Emergency Care plus MyBRADYLab with Pearson eText -- Access Card -- for Emergency Care
Package consists of:
0133946096 / 9780133946093 MyBRADYLab with Pearson eText -- Access Card -- for Emergency Care
0134024559 / 9780134024554 Emergency Care
Pearson, 9780134190754, 1280pp.
Publication Date: May 20, 2015
About the Author
Daniel Limmer (Author). Dan Limmer, EMT-P, has been involved in EMS for over 25 years. He remains active as a paramedic with Kennebunk Fire Rescue in Kennebunk, Maine, and the Kennebunkport EMS (KEMS) in Kennebunkport, Maine. A passionate educator, Dan teaches EMT and paramedic courses at the Southern Maine Community College in South Portland, Maine, and has taught at the George Washington University in Washington, DC and the Hudson Valley Community College in Troy, New York. He is a charter member of the National Association of EMS Educators and a member of the National Association of EMTs (NAEMT) for which he serves on the Advanced Medical Life Support Committee. Dan was formerly involved in law enforcement, beginning as a dispatcher and retiring as a police officer in Colonie, New York, where he received three command recognition awards as well as the distinguished service award (Officer of the Year) in 1987. During his 20-year law enforcement career he served in the communications, patrol, juvenile, narcotics, and training units. In addition to authoring several EMS journal articles, Dan is co-author of a number of EMS textbooks for Brady including First Responder: A Skills Approach, Essentials of Emergency Care, Advanced Medical Life Support, the military and fire service editions of Emergency Care, and others. He speaks frequently at regional, state, and national EMS conferences. Michael F. O'Keefe (Author). Mike O'Keefe, MS, EMT-P, became the Vermont EMS State Training Coordinator in 1989. He has a Master's degree in biostatistics and was an EMT-Intermediate for 16 years before becoming a paramedic 10 years ago. Mike was chosen to participate in the development of all four U.S. Department of Tranpsortation National Standard EMS Curricula (for First Responders, EMT-Basics, EMT-Intermediates, and EMT-Paramedics). He was also on the steering committee that developed the Geriatric Education for Emergency Medical Services (GEMS) course for the American Geriatrics Society and coauthored a chapter of the textbook for that course. Mike is co-author of the Brady text Essentials of Emergency Care and is a contributing writer to the Brady text Paramedic Care: Principles & Practice. He is very interested in promoting EMS research, particularly in rural areas. Mike is active as a volunteer EMS provider in northwestern Vermont and is a speaker at EMS conferences. Edward T. Dickinson (Medical Editor). Edward T. Dickinson, MD, NREMT-P, FACEP, is currently Assistant Professor and Director of EMS Field Operations in the Department of Emergency Medicine of the University of Pennsylvania School of Medicine in Philadelphia. He is Medical Director of the Malvern Fire Company, the Berwyn Fire Company, and the Township of Haverford paramedics in Pennsylvania. He is a residency-trained, board-certified emergency medicine physician who is a Fellow of the American College of Emergency Physicians. Dr. Dickinson began his career in emergency services in 1979 as a firefighter-EMT in upstate New York. He has remained active in fire service and EMS for the past 25 years. He frequently rides with EMS units and has maintained his certification as a National Registry EMT-Paramedic. He has served as medical editor for numerous Brady EMT-B and First Responder texts and is the author of Fire Service Emergency Care, and co-author of Emergency Care, Fire Service Edition, and Emergency Incident Rehabilitation. He is co-editor of ALS Case Studies in Emergency Care.
or
Not Currently Available for Direct Purchase