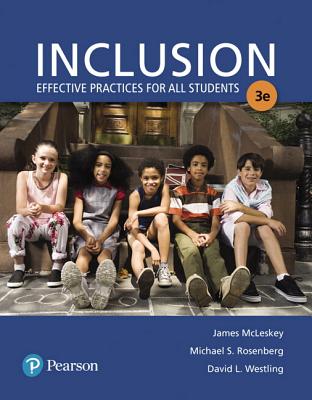 Inclusion
Effective Practices for All Students, Loose-Leaf Version
Loose Leaf

* Individual store prices may vary.
Other Editions of This Title:
Hardcover (4/11/2017)
Hardcover (7/12/2017)
Description
Note: This is the loose-leaf version of Inclusion: Effective Practices for All Students and does not include access to the Pearson eText. To order the Pearson eText packaged with the loose-leaf version, use ISBN 0134577515.
In this widely popular text, foundational information balances with real world application to provide the most applied text available on how to understand and best use effective practices for successful inclusive classrooms. With a sharpened focus and an improved organization, the new 3rd Edition of
Inclusion: Effective Practices for All Students
examines the foundations of successful inclusion; provides information on how to meet the needs of all students in brief, cross-categorical chapters; and offers effective, field-tested, evidence-based practices to help teachers make a seamless transition from theory to practice in the classroom. The new edition includes
Deepen Your Knowledge
features; a full chapter on students from culturally and linguistically diverse backgrounds; and new chapters on effective strategies for addressing the needs of students with severe disabilities, effective strategies for providing effective mathematics instruction for students in inclusive classrooms, and the four key pillars associated with successful implementation of inclusive practices. Also included are 68 step-by-step strategies for improving outcomes for students with disabilities and others who struggle in school. The Enhanced Pearson eText features embedded videos
.
Improve mastery and retention with the Enhanced Pearson eText
The Enhanced Pearson eText provides a rich, interactive learning environment designed to improve student mastery of content. The Enhanced Pearson eText is:
Engaging. The new interactive, multimedia learning features were developed by the authors and other subject-matter experts to deepen and enrich the learning experience.*
Convenient. Enjoy instant online access from your computer or download the Pearson eText App to read on or offline on your iPad(R) and Android(R) tablet.**
Affordable. Experience the advantages of the Enhanced Pearson eText along with all the benefits of print for 40% to 50% less than a print bound book.
*
The Enhanced eText features are only available in the Pearson eText format. They are not available in third-party eTexts or downloads.
**The Pearson eText App is available on Google Play and in the App Store. It requires Android OS 3.1-4, a 7" or 10" tablet, or iPad iOS 5.0 or later.
Pearson, 9780134672601, 512pp.
Publication Date: June 3, 2017
About the Author
James McLeskey is professor in the School of Special Education, School Psychology, & Early Childhood Studies at the University of Florida. He completed his doctoral work at Georgia State University. Dr. McLeskey is the author or co-author of Inclusion: Effective Practices for All Students, 3rd Edition (Pearson, 2018); Handbook of Effective Inclusive Schools: Research and Practice (Taylor & Francis/Routledge, 2014); Special Education for Today's Teachers An Introduction, 2nd Edition (Pearson, 2011); Reflections on Inclusion: Classic Articles that Shaped our Thinking (CEC, 2007); and Inclusive Schools in Action: Making Differences Ordinary (ASCD, 2000). He has worked extensively with local schools as they have developed effective, inclusive schools, and has written numerous articles regarding this work. His recent work focuses on preparing teachers to use effective practices, and the role of the principal is developing and supporting effective inclusive schools. Michael S. Rosenberg is Dean of the School of Education and Professor of Special Education at the State University of New York (SUNY)-New Paltz. He is also Professor Emeritus at Johns Hopkins University where prior to his 2012 appointment at SUNY, Dr. Rosenberg was a Professor and department chair in the Department of Special Education and Associate Dean for Research in the School of Education. Preceding his 26 years at Johns Hopkins, Dr. Rosenberg was an Assistant Professor for 4 years at Ball State University in Muncie, Indiana and, for an all too brief semester, a visiting scholar at Westminster College in Oxford, England. Dr. Rosenberg completed his doctoral work at Penn State University, and was a 2008 Fulbright Fellow at Saint Patrick's College in Dublin, Ireland. An author or co-author of five textbooks and numerous articles and chapters, he remains active in research related to teacher preparation policy and practice, as well as comprehensive and culturally responsive behavior management. A former teacher of secondary students with learning and behavioral disabilities, Dr. Rosenberg is active in a number of professional organizations, was the co-editor of Teacher Education and Special Education from 2009 -2012, and received the 2007 TED/Merrill Teacher of Excellence Award. David L. Westling joined the faculty at Western Carolina University as the Adelaide Worth Daniels Distinguished Professor of Special Education in 1997. Before arriving at WCU, Dr. Westling was on the faculty in special education at Florida State University. He received the EdD Degree in Special Education from the University of Florida in 1976 with related areas of study in Applied Behavior Analysis and Educational Research. He is the co-author of Teaching Students with Severe Disabilities, Special Education for Today s Teachers: An Introduction, and Inclusion: Effective Practices for All Teachers and has published more than 50 papers in refereed journals in special education. Dr. Westling is past-president of the Board of Directors for TASH, is co-director of the personnel preparation project in severe disabilities at Western Carolina University, and co-director of the Western Carolina University s University Participant Program. Dr. Westling was a Fulbright Research Scholar in Salzburg, Austria in 1994."
or
Not Currently Available for Direct Purchase