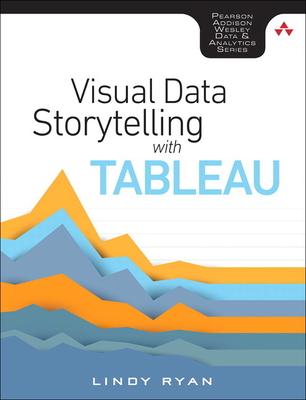 Visual Data Storytelling with Tableau (Addison-Wesley Data & Analytics) (Paperback)
Addison-Wesley Professional, 9780134712833, 272pp.
Publication Date: May 20, 2018
* Individual store prices may vary.
Description
Tell Insightful, Actionable Business Stories with Tableau, the World's Leading Data Visualization Tool Visual Data Storytelling with Tableau brings together knowledge, context, and hands-on skills for telling powerful, actionable data stories with Tableau. This full-color guide shows how to organize data and structure analysis with storytelling in mind, embrace exploration and visual discovery, and articulate findings with rich data, carefully curated visualizations, and skillfully crafted narrative. You don't need any visualization experience. Each chapter illuminates key aspects of design practice and data visualization, and guides you step-by-step through applying them in Tableau. Through realistic examples and classroom-tested exercises, Professor Lindy Ryan helps you use Tableau to analyze data, visualize it, and help people connect more intuitively and emotionally with it. Whether you're an analyst, executive, student, instructor, or journalist, you won't just master the tools: you'll learn to craft data stories that make an immediate impact--and inspire action. Learn how to:
- Craft more powerful stories by blending data science, genre, and visual design
- Ask the right questions upfront to plan data collection and analysis
- Build storyboards and choose charts based on your message and audience
- Direct audience attention to the points that matter most
- Showcase your data stories in high-impact presentations
- Integrate Tableau storytelling throughout your business communication
- Explore case studies that show what to do--and what not to do
- Discover visualization best practices, tricks, and hacks you can use with any tool
- Includes coverage up through Tableau 10

About the Author
Lindy Ryan is passionate about telling stories with data. She specializes in translating raw data into insightful stories through carefully curated visuals and engaging narrative frameworks. Before joining academia, Lindy was the Research Director for research and advisory firm Radiant Advisors from 2011 through 2016. In this role Lindy led Radiant's analyst activities in the confluence of data discovery, visualization, and visual analytics. She also developed the methodology for the Data Visualization Competency Center (DVCC), a framework for helping data-driven organizations to effectively implement data visualization for enterprise-wide visual data analysis and communication. Her tool-agnostic approach has been successfully implemented at a variety of organizations across several industries and with multiple visualization technologies, including Tableau, Qlik, and GoodData. She remains a respected analyst in the data visualization community and is a regular contributor to several industry publications as well as a speaker at conferences worldwide. Lindy began her academic career as an associate faculty member at City University of Seattle's School of Applied Leadership where she taught graduate courses in business leadership from 2012 to 2016. In early 2016 she joined the ambitious team at the Rutgers Discovery Informatics Institute and began contributing to multidisciplinary research focused on designing solutions for the next generation of supercomputers tasked with enabling cutting-edge extreme-scale science. Currently, Lindy leads RDI2's research on understanding and preventing cyberbullying behaviors in emerging technology users through advanced computing approaches. Today, Lindy teaches courses in visual analytics and data visualization in Rutgers University's Professional Science Masters program and in Montclair State University's Business Analytics program. She is a recipient of the MSU Professing Excellence Award, which recognizes professors' teaching excellence, particularly those who inspire and motivate students. This honor is especially meaningful to Lindy because in addition to her passion for teaching, her research includes a commitment to STEM advocacy, and she spends time on research related to increasing gender equity in CS&E and finding new and novel ways to nurture visual data literacy skills in early STEM learners. Lindy is an active committee member of the New Jersey Big Data Alliance, a partnership of New Jersey-based academic institutions that serves as the State's legislated consortium on research, education and outreach in advanced computation and big data. She is the author of The Visual Imperative: Creating a Culture of Visual Discovery released by Morgan Kaufmann in 2016, and the owner of Black Spot Books, a traditional, analytics-driven small-press publishing house. Learn more about Lindy at www.visualdatastorytelling.com. You can also follow her on Twitter @lindy_ryan or view samples of her work on her Tableau Public page at https: // public.tableau.com/profile/lindyryan#!/.