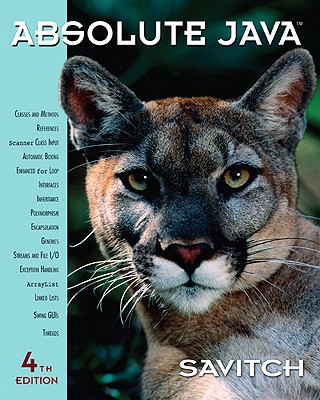 Absolute Java (Paperback)
Addison-Wesley Professional, 9780136083825, 1272pp.
Publication Date: March 1, 2009
* Individual store prices may vary.
Description
KEY BENEFIT Java programming concepts and techniques are discussed in a straightforward style using understandable language and code. KEY TOPICS Console I/O; FLow of Control; Defining Classes; Arrays; Inheritance; Polymorphism and Abstract Classes; Exception Handling; File I/O; Recursion; UML and Patterns; Interfaces and Inner Classes; Generics and the ArrayList Class; Linked Data Structures; Collections, Maps, and Iterators; Swing; Web Programming with JSP; Database Programming with Java. MARKET Ideal for both introductory and intermediate Java programmers.
About the Author
Walter Savitch is Professor Emeritus of Computer Science at the University of California at San Diego. He received his PhD in mathematics from the University of California at Berkeley in 1969. Since that time he has been on the faculty of the University of California in San Diego (UCSD). He served as director of the UCSD Interdisciplinary PhD program in Cognitive Science for over ten years. He has served as a visiting researcher at the Computer Science departments of the University of Washington in Seattle and and at the University of Colorado in Boulder, and has been a visiting scholar at the Centrum voor Wiskunde en Informatica in Amsterdam.
or
Not Currently Available for Direct Purchase