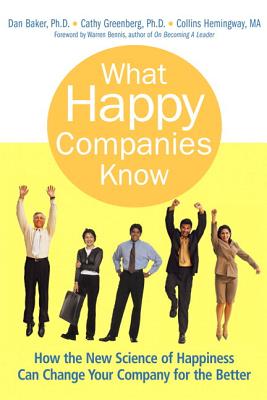 What Happy Companies Know
How the New Science of Happiness Can Change Your Company for the Better
Paperback

* Individual store prices may vary.
Description
Happy companies are winning companies. Well-adjusted, psychologically healthy companies collaborate better. They innovate more effectively. They change faster. They see reality with exceptional clarity, but they know how to address it positively. They uncover opportunities where others fixate on obstacles and blame. What Happy Companies Know reveals the five crucial elements that happy companies share in common... and shows how to lead any company to happiness This book reflects the experiences of the world's best companies, as well as the latest scientific research. Drawing on case studies from dozens of great businesses and exceptional leaders, this book's authors offer a complete blueprint, practical tools, and proven best practices for achieving organizational happiness and breakthrough performance. This book shows readers how to build a company where individuals at every level can apply their diverse strengths towards shared goals that are meaningful, positive, and profitable.
FT Press, 9780137011681, 320pp.
Publication Date: June 1, 2006
About the Author
Three professionals with unique yet overlapping backgrounds have come together to create a book that will change the way America does business. Dan Baker, a medical psychologist, has spent his life counseling business leaders and organizations and is a pioneer in applied positive psychology. Cathy Greenberg, a trained anthropologist, has been a partner with two of the world's largest consulting firms and is among the country's most respected executive coaches and leadership trainers. Collins Hemingway, a business professional and highly regarded author, brings 25 years of experience in a variety of challenging management positions. Dan Baker, Ph.D., is founding director of the Canyon Ranch Life Enhancement Program. Since 1988, his mission has been to engage guests of Canyon Ranch--some of the world's highest-achieving people--in emotionally connecting with their well being. He often coaches and consults with CEOs, corporate officers, and their organizations. An adjunct lecturer at the University of Arizona Medical College, he has also facilitated and taught at Harvard Business School. Cathy Greenberg, Ph.D., specializes in executive coaching, eLeadership, and personal and organizational transformation. Cathy served as a founding partner of Accenture's Institute for Strategic Change and was the founder and executive director of the Institute for Strategic Leadership, LeBow College of Business at Drexel University. A contributor to many articles and books, she is the co-author of Global Leadership: The Next Generation with Marshall Goldsmith. Collins Hemingway, MA, who served as director of business development and international marketing for Microsoft's fastest-growing division, is best known for partnering with Microsoft CEO Bill Gates to co-author the #1 best-selling book Business @ the Speed of Thought. He is also co-author of Built for Growth, the most thorough book on creating, establishing, and renewing retail brands. Collins is an executive coach and marketing consultant. Greenberg and Baker are co-founders of h2c--Happy People, Healthy Companies--the first organization to specialize in coaching leaders on the art and science of building happy, high-performance companies.
or
Not Currently Available for Direct Purchase