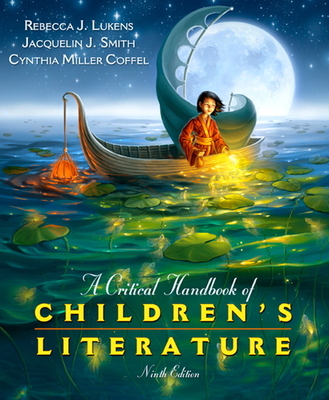 A Critical Handbook of Children's Literature
Paperback

* Individual store prices may vary.
Description
KEY BENEFIT Gives future teachers, practicing teachers, librarians, and parents sound advice and many rich examples for choosing quality children's literature for use in the classroom, library, or home. KEY TOPICS Definitions of literary terms are interwoven throughout in-depth discussions of plot, character, theme, setting, point of view, and style & tone; sound criteria for assessing the merit of children's books; chapters on poetry, biography, and informational books; a section on censorship and thinking multiculturally combine to make this an important revision. New to this edition are fresh examples of quality children's literature infused with many multicultural titles included; an in-depth discussion of the complex relationship between pictures and text in contemporary picturebooks; descriptions of graphic and verse novels; discussions of new issues, such as the risky topics addressed in some books for children, and suggestions of ways to use picturebooks created for older readers. Wrapping up this edition is a discussion of ways to engage readers through read alouds and interactive discussions. MARKET Pre-service and in-service teachers, librarians, and parents.
Pearson, 9780137056385, 408pp.
Publication Date: March 17, 2012
About the Author
Rebecca J. Lukens graduated with honors from Concordia College in Minnesota, earned an M.A. from Syracuse University, and next worked on the editorial staff of a children's encyclopedia in New York. After a year on the faculty of St. Olaf College followed by her marriage, she taught at New York State College, Albany, and later at Ohio University, Chillicothe. After publication of a few children's stories, Miami University Department of English hired Lukens to teach Children's Literature-not "Kiddy Lit"-as well as technical and expository writing. The first edition of A Critical Handbook of Children's Literature was published by Scott Foresman in 1976, and A Critical Handbook of Literature for Young Adults by Harper Collins in 1994. Lukens also co-edited a literature anthology, Woman: An Affirmation, published by D. C. Heath in 1979. Her latest publication, It's Been Great, is a memoir dedicated "to my children and theirs." Lukens's retirement teaching has been with Miami University's Institute for Learning in Retirement; her favorite class she called "Laughter for Health and Sanity." Jacquelin J. Smith is a career educator whose experience spans grades 2--8 through pre-service teaching. Children's Literature has been a passion throughout her career, from literacy learning to connections across the curriculum. She has shared many cross-curricular teaching and learning strategies for science, social studies and math with children's books at numerous professional conferences and in publications with the National Council of Teachers of Mathematics. A lifelong learner and Children's Literature instructor at the University of Northern Iowa, her studies continually confirm both her appreciation for and belief in the power of critically examining children's literature. Cynthia Miller Coffel is the author of Thinking Themselves Free: Research on the Literacy of Teen Mothers. Her research in children's and young adult literature has appeared in journals such as The ALAN Review, Reader, and QSE. Her work won the Jeffrey E. Smith award for nonfiction from The Missouri Review in 2007, and her literary essays have twice been listed among the notable essays of the year in The Best American Essays series. Her PhD in literacy education is from the University of Iowa.
or
Not Currently Available for Direct Purchase